Our Tile Flashing Systems were designed for use on new or existing tile roofs and are available in 3 profile options for flat, "W" and "S" tile roofs.
By usi
ng this innovative flashing system, which replaces one complete roof tile, the need for cutting, drilling, grinding and the replacing of tiles is eliminated. Multiple fastener holes in the system's base plate allow for attachment into the rafter, regardless of the flashing alignment. The embossed cone-shape stamped into the flashing and fitted with an EPDM rubber bushing creates a watertight seal when paired with an EcoFasten Solar compression bracket.
Featured Product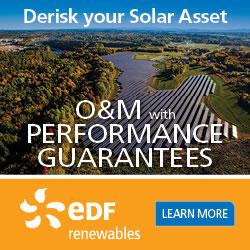 EDF Renewables offers the same innovative solutions that maximize the performance of our own 5.2 GW of installed projects. Because we're not an equipment manufacturer, our recommendations are transparent and data-driven. We cover the entire project lifecycle: from pre-commissioning support, through warranty and post warranty operation, to late stage and decommissioning.