Our Tile Flashing Systems were designed for use on new or existing tile roofs and are available in 3 profile options for flat, "W" and "S" tile roofs.
By usi
ng this innovative flashing system, which replaces one complete roof tile, the need for cutting, drilling, grinding and the replacing of tiles is eliminated. Multiple fastener holes in the system's base plate allow for attachment into the rafter, regardless of the flashing alignment. The embossed cone-shape stamped into the flashing and fitted with an EPDM rubber bushing creates a watertight seal when paired with an EcoFasten Solar compression bracket.
Featured Product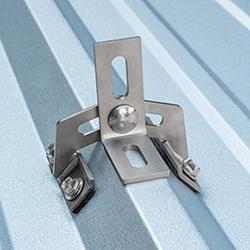 They have been changing the game for 10 years with their original Top Mount line for Asphalt Shingle roofs, and by now supplying one of the widest ranges of solar mounts in North America. From their patented products, to the custom production services they offer, QuickBOLT has been working with solar installers for nearly a decade to make solar installations easier than ever before.