Our Tile Flashing Systems were designed for use on new or existing tile roofs and are available in 3 profile options for flat, "W" and "S" tile roofs.
By usi
ng this innovative flashing system, which replaces one complete roof tile, the need for cutting, drilling, grinding and the replacing of tiles is eliminated. Multiple fastener holes in the system's base plate allow for attachment into the rafter, regardless of the flashing alignment. The embossed cone-shape stamped into the flashing and fitted with an EPDM rubber bushing creates a watertight seal when paired with an EcoFasten Solar compression bracket.
Featured Product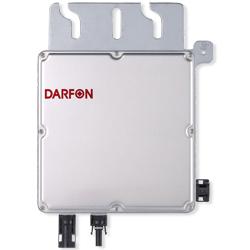 The Darfon G320 is the microinverter solution for today's high-power solar modules. The G320 handles 60- and 72-cell modules up to 350W DC and outputs up to 300W AC. The G320's 3-phase configuration accommodates the electrical distribution systems of most commercial buildings and to reduce, if not eliminate, the need for expensive transformers. The G320 comes in four voltage/phase configurations, so it can be installed in residential, commercial or utility applications.