Hybrid Energy Innovations 2015, a new event devoted to the fast growing hybrid energy market, will be held April 8-9 at the downtown Digital Sandbox Network Center in New York. The event will highlight successful examples of a wide range of hybrid energy forms.
New Hybrid Energy Conference Launched – Hybrid Energy Innovations 2015 to be Held April 8-9 in NY

New York, Sept. 3, 2014
Due to a need for more comprehensive coverage of the growing field of hybrid energy, Zackin Publications Inc. has launched Hybrid Energy Innovations 2015, a conference that will provide a broad perspective on hybrid energy and an ideal networking forum for practitioners in the field.
The event, which will be held April 8-9 at the Digital Sandbox Network Center in downtown New York, underscores the principle that combining diverse renewable and fossil fuel energy resources offers many positive benefits, especially greater cost-effectiveness. It will highlight the broader impact hybrid energy has had and discuss a wide array of hybrid energy topics, including hybrid solar/wind energy; hybrid forms combining solar and/or wind with natural gas or diesel; hybrid forms combining solar, wind and/or hydro with energy storage; solar charging for electric vehicles; and hybrid wind/wave energy.
Experts from such organizations as the Battelle Institute, SMA America, Sgurr Energy, Green Mountain Power, TDX Power, Navigant Consulting, Ideal Power, Princeton Power, KeyBank, Sullivan and Worcester, HOMER Energy, Envision Solar, EOS Energy Storage, Car Charging Group, Eccosolution, Revolution Energy, MV Green Power,and Hornblower Cruises will highlight hybrid energy strategies and techniques that work best in particular environments and are dramatically reshaping the energy landscape. The event will draw on key data from leading-edge projects and tests in hybrid energy to provide a clearer picture of the evolution of and prospects for hybrid energy. Sessions at the event will examine the key financing, business, technological and policy innovations driving hybrid energy.
Association sponsors of the event include ACORE and Future Energy.
Because of its scope, Hybrid Energy innovations 2015 is geared to a wide audience involved in and/or interested in hybrid energy, including renewable energy project developers, energy technology developers, oil and gas producers and distributors, utilities, government organizations, construction companies, mining companies, auto companies, educational organizations and software companies.
Zackin Publications has been at the forefront of reporting on new developments in hybrid energy through its renewable energy publications, including Solar Industry, North American Windpower and Renew Grid. The company will publish a special supplement on hybrid energy paired with the March 2015 issues of Solar Industry and North American Windpower to complement Hybrid Energy Innovations 2015.
For further information on Hybrid Energy Innovations 2015, please visit www.HybridEnergyInnovations.com or contact:
Michael Mascioni, Conference Director, Hybrid Energy Innovations, (212) 688-4781, mmascioni@HybridEnergyInnovations.com
Paul Zackin, Publisher, Zackin Publications, (203) 262-4670, ext. 223, pzackin@HybridEnergyInnovations.com
Featured Product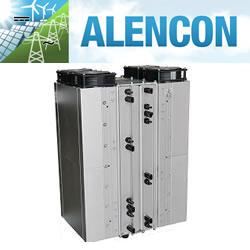 Alencon Systems is the premier manufacturer of high power, high voltage DC:DC optimizers for alternative energy applications including solar, battery energy storage, Microgrids, Fuel Cells and Electric Vehicle charging. Alencon's DC:DC converter offerings include the SPOT, BOSS and CUBE series DC:DC converters. The SPOT is a modular, uni-directional DC:DC solution ideal for solar applications. The BOSS is a modular, bi-directional unit for use with battery energy storage. The CUBE is a monolithic DC:DC converter which is available in both uni-directional and bi-directional modalities. Pictured above, is the Alencon SPOT.