Azusa Light & Water and Ice Energy Partner on Residential Thermal Energy Storage
AZUSA, Calif., September 5, 2014 - Azusa Light & Water (Azusa) announced

today a successful milestone in a research project aimed at proving the
potential for successful deployment of Ice Energy's thermal energy storage
system for residential applications, called the Ice Cub. As part of the
project, supported by a DEED technology research grant from the American
Public Power Association (APPA), Azusa recently completed deployment of two
smaller design variants of Ice Energy's original Ice BearT thermal energy
storage system at two Azusa residences.
Azusa Light & Water General Manager George Morrow said, "We are excited to
explore the tremendous potential of residential thermal energy storage
cooling applications on behalf of our citizens and the more than 2,000
members of the APPA who helped fund this technology research project. The
future savings for individual residential customers could be significant and
even more importantly, when deployed at scale, residential thermal energy
storage systems in cooling applications could cut untold millions from the
peak power expenses of municipalities across the country."
The goal of the project is to prove the capability of the modified Ice Bear
systems in residential deployments. Ice Energy is using the results of the
project to support its ongoing R&D efforts to develop its residential Ice
Cub T, a thermal energy storage solution for residential cooling
applications that the company expects to commercialize and bring to market
in 2016.
Azusa Light & Water has a proven track record with Ice Bears, using them
since 2005 to help reduce summer peak capacity requirements set by
refrigerant-based air conditioning in Commercial facilities. Azusa uses
these thermal energy storage units at major city facilities including the
City's public library, event center and gymnasium, police station
headquarters, City's critical data centers, Azusa Light & Water main
offices, and the Utility's largest customer, Azusa Pacific University.
Ice Energy President Mike Hopkins remarked, "We are grateful for the support
of Azusa and the grant from APPA. This effort has helped accelerate our R&D
efforts aimed at the residential marketplace. Cooling applications consume
nearly 10% of all power in the residential sector in the USA and we believe
this is a massive new market for distributed energy storage and peak load
management that forward thinking utilities like Azusa are getting ready to
tackle."
About Azusa Light & Water
Azusa Light & Water was established around the turn of the century, making
it one of the oldest municipal utilities in Southern California and the
West. The utility serves approximately 25,000 water and 16,000 electric
retail customers with reliable water and electricity at competitive rates
through an electric system that includes 2 substations, 20 circuits and
about 100 miles of electric lines. The peak demand of approximately 65
megawatts usually occurs in the early evening during the late summer making
Azusa a perfect candidate for the Ice Bear and Ice Cub distributed thermal
energy storage technologies.
About Ice Energy
Since 2003, Ice Energy, headquartered in Glendale, Calif., has provided
utilities more than 22 million hours of the most reliable, cost-effective
and green distributed energy capacity available. For more information, visit
www.ice-energy.com.
Featured Product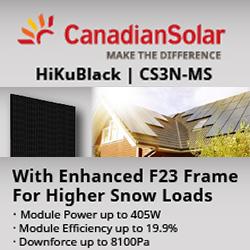 Aesthetic appearance for residential systems: With black backsheet & black frame, Power range 380 ~ 405 W, Low power loss in cell connection. Enhanced reliability: · Low temperature coefficient (Pmax): -0.34 % / °C, LID LeTID less than 2.0%, Lower hot spot temperature, Better shading tolerance.