WGES Executive Forum will draw top decision makers & top experts unveiling latest economic opportunities & innovations in new energy. According to Moody's Economic Report, $154 billion in private capital is projected to triple to $2.2 trillion by 2020.
(Washington DC) The WGES Council, Host Ambassadors & Partners announce registration is open to attend the DC World Green Energy Symposium Executive Forum. The WGES Forum will be held at the Washington Post Conference Center, Washington DC on October 23, 2014 from 8:00am to 4:30pm.

This is the world stage for latest launches, policies, unveiling of procurement opportunities and showcase of sustainable technologies and innovations in new energy.
The World Green Energy Symposium (WGES) is proud to be invited back to Washington DC and is bringing top experts featuring economic programs, sustainable products & technologies in new energy. The WGES program is known for its focus on green/renewable energy technology and innovations in existing technologies as the vantage point in the new economy creating and maintaining jobs, contract and exporting opportunities, and new policies leading to economic vitality and a healthier planet.
The WGES attracts the best minds and top decision makers through a carefully planned strategic process which has developed into the foundation leading to an outstanding premier technical educational program providing a world stage for a platform of education and information exchange on new and existing advances in sustainable energy.
The WGES has a track record for attracting World Class Exhibitors showcasing the latest and greatest sustainable and innovative products and technologies.
In addition to participation from federal agencies and the global industry, local DC partners include:
• Office of the Deputy Mayor for Economic Development & Planning
• DC Chamber of Commerce
• Great Streets
• DC Archangels and more....
Visit www.wges.us to learn how you can participate.
Who is Invited to Attend
• Industry Leaders/Officials their Program & Contracting Officers seeking business and/or to procure innovations & technologies,
• Federal, State, Local Government Officials, Policymakers, Agency Program Managers, Employees & Contracting Specialists seeking to identify, inform, exchange & outreach with public and private sectors within this field,
• Government Agencies, Government Contractors, Global Businesses, Entrepreneurs, Environmental Organizations & Academia seeking to Partner/Exhibit/Export/Contract or Subcontract/Create Green Jobs,
• Lenders, Financial Institutions & Investors seeking qualified customers,
• Engineers, Architects, Program Managers & Developers seeking updates,
• Manufacturers, R&D and Distributors with new technologies & Innovations,
• Scientists, Professors, IT Professionals, Researchers & Innovators providing updates/education & information
• Universities seeking information on jobs & new disciplines,
• Chambers, Consulates, Trade Organizations....
The WGES provides participants an opportunity to connect directly with energy leaders who present latest case studies, unveil innovations and upcoming projects, discuss contracting opportunities and provide updates on supportive policies. The partnerships include local, state and federal agencies, academia, industry, chambers of commerce, environmental, economic organizations and delegates.
The agenda is carefully developed by a council of leading professors, industry, and government agency experts. According to Moody's Economic Report, a $154 billion in private capital worldwide in this industry is projected to triple to $2.2 trillion by 2020.
The Symposium attracts the top echelon speakers who are leading subject matter experts including Nobel laureates, top industry leaders, top officials, published scientists & educators. The WGES invitations are targeted to B2B, G2G and B2G and the audience is made up of well informed multi-discipline top experts, government officials, policymakers, scientists, researchers, investors, innovators, industry, manufacturers, program managers and contracting officials who are there specifically to exchange, showcase, procure, invest and identify opportunities. Participants are experts from government and industry. These experts walk the floor seeking (and finding) a WGES showcase with latest technologies and innovations for procurement and/or investment.
The WGES Executive Forum will be held October 23, 2014 at the Washington Post Conference Center, in Washington DC. To find out more and to register visit online at http://www.wges.us
Featured Product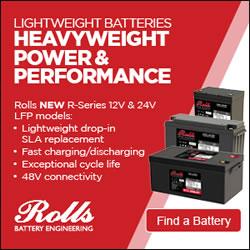 Designed for true drop-in replacement, Rolls new R-Series 12V & 24V LFP lithium models offer a maintenance-free lightweight flooded and SLA alternative in four popular BCI case sizes with fast charge/discharge capability. Rolls custom built-in BMS provides all necessary operating protections for safe operation and seamless integration for deep cycle replacement in 12V, 24V or 48V systems.