INNOWATT24 announces that They are currently working on several large solar farms. The projects are located in South America and USA. Also want INNOWATT24 themselves invest in a solar farm.
The company INNOWATT24 from Charlotte, North Carolina announces currently working on several large solar parks.

INNOWATT24 has worked on several large-scale solar farms worldwide and has its focus on project development, EPC, product placement and sale to investors.
The Chief Executive Officer of INNOWATT24 Corp., Sascha Marco Wallantin, announced that is currently being worked on project rights in California, Nevada and North Carolina.
Sascha said: "We just check 3 more projects in South America with a total output of 250 MWp These projects would be ready for construction quickly and would fit into our concept..."
The INNOWATT24 already worked on several projects with a total capacity of more than 400 MW.
These projects also include the solar project at the Halifax County Airport in North Carolina with a capacity of 30 MWp and 50 MWp project development in Arizona.
Currently the INNOWATT24 plans to invest in a solar park. The purchase of the property is imminent.
Featured Product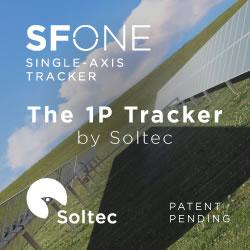 Under the slogan "engineered for greatness", the SF8 tracker aims to revolutionize the photovoltaic market with its new minimum 2x60 configuration and 4 to 6-strings. This tracker is elegantly designed while it reinforces its structure to perform in any terrain. In addition, the SF8 tracker increases the rigidity of its structure by 22% more than the previous generation of Soltec trackers, the SF7. The SF8 is specially designed for larger 72 and 78 cell modules, an increasing market trend.