Founded by Mike S. Robinson, Zero Down Solar has collaborated with Clean Power Finance to promote 'solar' installations and a better customer experience. This partnership allows Zero Down Solar to offer lower fixed rate prices in 12 states cutting electric bills in half in states like Hawaii where the power price is 35 cents per kilowatt hour.
Los Angeles, CA September 12, 2014

Mike S. Robinson acting president and CEO of Zero Down Solar is pleased to announce that his company recently joined forces with Clean Power Finance as a direct partner. This partnership will allow more homeowners nationwide to go solar with "No loan, no deposit and no installation fee." The goal of Mike S. Robinson involves putting an end to the painful rising costs of energy nationwide. He states, "We are able to reach out to homeowners that would like to go solar but have had financial barriers to doing so....there's an untapped market of people struggling to pay for the rising costs of living, that's our target market!"The future for solar is bright. Less than one percent of homeowners nationwide have panels on their roof, but a growing number of people are ready to go green and save. Solar allows homeowners to put their energy costs in their own hands.
The companies' close collaboration will allow an even faster rate of adoption to helping homeowners go solar through the Clean Power Finance third party PPA financing plan. This will also allow Zero Down Solar to give their clients an improved "going solar" experience. This collaboration between the companies will result in installation times that are significantly faster. Other benefits of this partnership will include improved customer service. If an individual is looking to take the solar route, this partnership will stop him from encountering many unnecessary frustrations and inconveniences in making the big change.
Most importantly, this partnership will be good for many clients' pocketbooks. People who are interested in the cheapest power prices in the state should pay close attention. The relationship between the two companies provides the best fixed rate prices available in the marketplace.
People who are considering moving in the "solar" direction will definitely want to explore their options with Zero Down Solar as soon as possible. The priority at Zero Down Solar is to make the transition from fossil fuels to green energy as easy and painless as possible. The new partnership with Clean Power Finance only aims to enhance the overall customer experience. If you're highly passionate about having more disposable income to spend on yourself each month then it's time to stop paying the power company and time to go solar. Zero Down Solar is an easy solution. Stop giving the monopoly power company your hard earned dollar and choose to get power from the sun, after all, it free and it shines everyday!
For more information, please visit http://mikesrobinsonsolar.blogspot.in/; connect with Google+ , follow on Twitter @MSRobinsonSolar or on Facebook at https://www.facebook.com/MikeSRobinsonSolar
Featured Product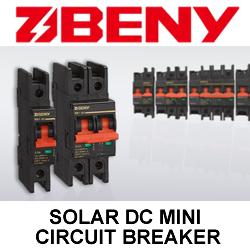 The BB1-63 modular miniature circuit-breakers can be used in solar DC circuits up to 1200 VDC (4-poles execution). Application in solar DC circuits, battery energy storage systems and UPS. Arc flash barrier design keeps solar equipment more safe and reliable. For DC circuit over-current protection.