Partnership combines Camborne's knowledge of the UK market with sPower's global power industry experience and access to capital
SALT LAKE CITY & LONDON--sPower (Sustainable Power Group), a leading renewable energy provider and Camborne, a leading UK solar developer, today announced the formalization of a strategic collaboration agreement.

The UK continues to be a growth market for utility-scale solar photovoltaics (PV), which is an attractive asset class for investors. Together, sPower and Camborne intend to deploy significant capital under the UK's Renewables Obligation Certificate (ROC), the Feed-In Tariff (FIT) and Contract for Difference (CfD) programs.
"Camborne has been an active participant in the UK solar market, sharing sPower's commitment to demonstrating honesty and transparency in all business activities -- which made them a natural target partner for our expansion into northern European markets. The formation of the strategic alliance with Camborne allows us to capitalize on their position as a trusted development partner and to contribute further to the growth of renewables generation in the UK," said Ryan Creamer, CEO of sPower.
Declan Mackle, CEO of the Camborne Energy Group said, "We couldn't have asked for a better strategic partner than sPower. Their proven track record of success under seasoned and deeply-respected leadership, coupled with their aggressive and well-funded plan for gaining market share in the UK and North America, will mesh well with the foundation Camborne has laid." Mackle continued, "To say that we are optimistic about the possibilities would be an understatement."
About sPower: Headquartered in Salt Lake City, with offices in San Francisco and New York City, sPower is a vertically integrated owner and operator of utility and distributed electrical generation systems across the U.S. sPower is actively buying solar development assets in any stage of development, as well as working to acquire operating solar projects in North America and the UK. Concurrently, sPower's land division is seeking landowner partners (to develop sustainable energy projects) and landowners with existing renewables assets (who can benefit from liquidating current land leases). sPower is a portfolio company of Fir Tree Partners, a leading global investment fund with more than 20 years of investing history and approximately $13 billion of capital under management.
sPower's three-prong operating strategy consists of a balance between 1) developing early stage projects; 2) acquiring and then running late-stage sustainable energy projects; and 3) procuring fully operational assets. sPower's growth (acquisition of Tioga Energy's operating assets; merger with Fir Tree Partner-backed Silverado Power; acquisition of Bosch North American operating assets; appointment of Jigar Shah to the sPower Board of Directors; and the collaboration agreement with Camborne Capital to expand to the UK solar market) has secured its position as a leader in the renewable energy industry since its founding in 2012.
For more information, visit www.sPower.com.
About Camborne Capital: Camborne is one of the UK's leading solar developers based in London. The Camborne team has developed from conception and sold more than 100MW of large-scale ground mounted solar projects in the UK since 2012. Camborne's team is comprised of international expertise across multiple technologies including solar, off shore and on shore wind, biomass and tidal.
Given the ambitious energy targets set by the UK Government, Camborne is committed to supplying a large volume of sustainable and renewable energy to the UK energy mix. With ever-increasing concerns over blackouts, it is essential that the deployment of renewable energy generation is accelerated.
Camborne has the requisite skills to successfully facilitate a large proportion of the renewable energy target given its track record of delivering a wide variety of solar projects, and the exceptionally strong relationships that have been built with all of the necessary stakeholders in the UK renewables energy market. Camborne is actively acquiring a substantial portfolio of assets to build out under the 1.4 ROC, FIT and CfD schemes. With a global interest in the renewable market and based on their success to date, Camborne is planning to expand its operations abroad in 2015.
For more information, visit www.cambornecapital.co.uk.
Featured Product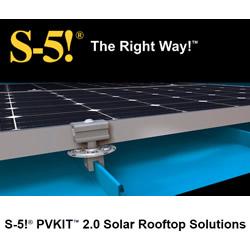 The concept of combining PV arrays with standing seam metal roofing is growing-for good reasons. Metal roofs have a life expectancy of more than 40 years. Shouldn't the mounting system last as long? With S-5! zero-penetration attachment technology and PVKIT 2.0, the solarized metal roof is the most sustainable system available -and without compromising roof warranties! PVKIT 2.0 is the also the best solution for attaching PV modules directly to any exposed fastener metal roof.