A 15 Year Purchase Power Agreement (PPA) has just been signed by Innovative Solar Systems, LLC (ISS) on their Innovative Solar 41 (IS 41) project, a 48MW Solar Farm to be built in Bladen County and projected to be online by late 2015.
Asheville, NC September 15, 2014

IS 41 was one of the Duke Energy's qualifying RFP projects and after months of negotiations the purchase power agreement (PPA) was executed by ISS representatives just this week. The PPA received from Duke Energy on this 48MW Solar Farm project is for fifteen years and should facilitate partnerships with owner operators that wish to partner with ISS to actually own this one of a kind project in Bladen County. The project itself will be constructed on a tract of approximately 300 acres and ISS claims that this is one of the company's most buildable sites to date. This solar energy plant will produce enough energy in the county to provide electricity to about 10,000 homes.
ISS is currently accepting bids from panel manufacturers for the 200,000 solar panels that will be mounted to collect energy on this site. Companies like Canadian Solar, Talesun, ET Solar and other tier one vendors will be involved in the bid process to assure a cost effective approach and also to assure that the project reaches the targeted on line date of October 2015. Solar farms like IS 41 are vital to this country for many reasons and provide many benefits including lower cost for energy, increased tax revenue for the counties in which they are built, added jobs here in the U.S. and of course the overall lessening of the carbon footprint on the planet. Both hard and soft costs to construct solar farms have come down dramatically in the last five years making these types of investments very attractive for many reasons.
Investors that would typically invest monies off shore for higher returns are now embracing renewable energy here in the United States and seem to have an overwhelmingly large appetite for these utility scale projects. A project of this magnitude requires an investment of approximately $100,000,000, but if the deal is structured properly, many investors are reporting above average returns. ISS CEO John Green states that these are very exciting times and ISS has almost 1 Gigawatt of solar farms projected to be built in North Carolina in 2015. The company is planning a merger for next year and will expand into a number of additional states. ISS plans to be the largest developer of solar farm projects in the nation in the future. For more information on this project or for information concerning other shovel ready solar farm projects please call ISS at (828)-215-9064.
Featured Product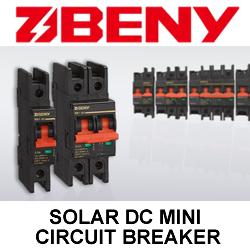 The BB1-63 modular miniature circuit-breakers can be used in solar DC circuits up to 1200 VDC (4-poles execution). Application in solar DC circuits, battery energy storage systems and UPS. Arc flash barrier design keeps solar equipment more safe and reliable. For DC circuit over-current protection.