REC Solar completes six new solar projects for Dole Plantation and W.M. Keck Observatory
San Luis Obispo, Calif. – REC Solar, a national leader in commercial solar system design and installation, today announced growing momentum across the state of Hawaii, with the completion of six solar energy systems for Hawaii's historic Dole Plantation and W.M. Keck Observatory. REC Solar has a total of 19 megawatts of projects in Hawaii completed or under construction in 2014, with more than 27 megawatts of solar installations since 2008.

REC Solar was selected to design and install four ground-mount systems at the Dole Plantation, located on Oahu, Hawaii. Dole Plantation is one of Oahu's most popular visitor attractions and welcomes more than one million visitors a year.
"We needed a contractor that would minimize the impact on daily operations at Dole Plantation during construction. REC Solar made the installation process easy and efficient by working openly with our team," said Michael Moon, Director of Operations for Dole Plantation. "Now, we use the Hawaii sun to not only support agricultural activities, but also to help us reduce our impact on the planet. It also provides us an historical connection by harnessing the sun to harvest a new crop: renewable energy!"
REC Solar also installed two solar roof-mount projects at the Headquarters and Visiting Scientist Quarters of the W.M. Keck Observatory, located in Kamuela, Hawaii. The solar electric systems are lowering the facility's operational costs to support the world's two largest optical and infrared telescopes, the ten-meter Keck I and Keck II.
"Keck Observatory built and operates the world's largest and most scientifically-productive telescopes, and we have a proven track record of implementing world-class systems," said Steve Jefferson, Communications Officer for W. M. Keck Observatory. "We looked at our solar energy system in the same way. REC Solar met our high quality standards in both the design and the installation of our system. We are proud of our efforts to reduce our impact on the petroleum-based energy grid and get a real kick knowing we are harnessing the power of a star to view other stars and the cosmos that spawned them."
Hawaii is a rapidly growing solar market that benefits from abundant sunshine and a renewable mandate to obtain 40 percent of its power from local renewable generation by 2030. REC Solar has already established itself as a leader in Hawaii's burgeoning solar industry with the completion of a 1.2 megawatt utility-scale project with Kauai Island Utility Cooperative (KIUC). In June 2014, REC Solar began construction of an additional 14.53 megawatts DC solar project for KIUC Anahola, a utility system that will be the largest PV system in Hawaii upon completion.
"REC Solar is quickly expanding to provide high-quality systems and service to more and more businesses in Hawaii," said Drew Bradley, Hawaii Sales Manager for REC Solar. "By supporting our customers every step of the way, from feasibility studies to post-construction maintenance, we make going solar not just profitable but also painless."
About REC Solar
REC Solar (REC Solar Commercial Corp.) is a national leader in solar electric system development, design and installation. Focused on making solar affordable and simple, REC Solar specializes in business, government and utility projects. REC Solar is committed to delivering high-quality systems while lowering the cost of solar power. REC Solar has installed more than 400 commercial systems nationwide in excess of 112 megawatts over more than 16 years of operations. For more, visit RECSolar.com or call (844) REC-SOLAR.
Featured Product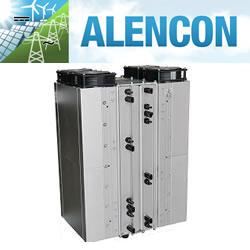 Alencon Systems is the premier manufacturer of high power, high voltage DC:DC optimizers for alternative energy applications including solar, battery energy storage, Microgrids, Fuel Cells and Electric Vehicle charging. Alencon's DC:DC converter offerings include the SPOT, BOSS and CUBE series DC:DC converters. The SPOT is a modular, uni-directional DC:DC solution ideal for solar applications. The BOSS is a modular, bi-directional unit for use with battery energy storage. The CUBE is a monolithic DC:DC converter which is available in both uni-directional and bi-directional modalities. Pictured above, is the Alencon SPOT.