Elster EnergyICT's flagship energy management solution EnactoTM 9.3 will reduce Tesco's energy consumption across its estate of stores worldwide
Kortrijk, Belgium, 16 September 2014 — Elster EnergyICT has signed a three-year contract with Tesco, one of the world's largest retailers, to implement a cost-saving energy management solution across its large retail and distribution estate. Committed to reducing its carbon intensity and tackling climate change, Tesco has selected Elster EnergyICT's pioneering energy monitoring and management platform EnactoTM 9.3. The platform delivers real-time and actionable energy intelligence that unlocks hidden patterns in consumption helping to improve business performance and ultimately save cost through reduction in energy use.

EnactoTM is the company's flagship energy management platform, and latest version 9.3 brings new features and enhanced functionality to meet the evolving needs of multi-site organisations in the commercial, industrial and retail sectors. EnactoTM 9.3 is intelligent, user-friendly and self-learning, and works with energy managers to reduce energy costs and increase savings by providing automated energy reducing actions. The cloud-based platform will form part of Tesco's focus to reduce energy wastage, as it provides multiple users with easy access to energy data from different devices. Enacto'sTM reporting capabilities will allow Tesco and its partners to present energy data analytics at all levels of the organisation.
"Tesco is an established leader on energy efficiency and carbon reduction in the retail sector and has committed to reducing CO2 emissions by 50 per cent by 2020," says James Pitcher, Head of Energy & Environment, Tesco. "We have also set the target of being a zero-carbon business by 2050 and are continually pushing ourselves to find innovative ways to make our stores as efficient as possible. Elster EnergyICT's energy management solutions will play an essential role in helping us to achieve these goals by enabling our employees to visualise, manage and identify opportunities for energy saving across our stores, and quantify any savings made."
Effective energy management plays a big role at Tesco, which has stores and distribution centres across the UK, Europe and Asia. Elster EnergyICT's solutions will work with the supermarket giant to support its innovative energy efficiency programmes and embedding an energy saving culture ensuring it continues to realise sustainable savings.
"We are delighted that the world's third largest supermarket retailer has chosen Elster EnergyICT and our EnactoTM 9.3 platform to support its energy saving and climate change programmes," says Spencer Rigler, Vice President Energy Management, Elster EnergyICT. "This partnership demonstrates the platform's ability to meet the needs of multi-site commercial organisations across continents and support industry-leading programmes that effectively reduce bills, minimise carbon footprints and future-proof energy savings."
Featured Product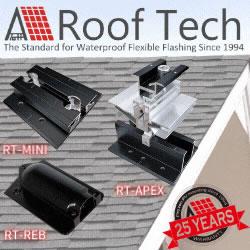 Now Roof Tech brings you the most innovative, watertight mounting systems ever developed for solar photovoltaic systems. Designed and manufactured exclusively for us by Japan's longtime leader in roofing technologies, Roof Tech products are 100% code-compliant and offer fast, simple installation and huge savings on shipping costs due to their compact, rail-less design. Learn more about our full line of versatile PV mounting solutions now available for residential installations. The next generation in rooftop solar mounting solutions."