Deploying Advanced Technologies to Meet Growing Needs for Clean, Sustainable Energy
SHANGHAI September 16, 2014

DuPont Photovoltaic Solutions (DuPont) and Yingli Green Energy Holding Company Limited (Yingli Solar) have completed the installation of a 210 kilowatt solar power project on the rooftop of the DuPont China R&D Center in Shanghai. The project contains Yingli Solar's monocrystalline PANDA modules, which utilize innovative new technologies that are enabled in part by advanced materials from DuPont. The companies share a commitment to accelerate the broader adoption of solar energy to address the world's growing energy needs.
"DuPont and Yingli Solar established this project to model how solar power can be most effectively utilized to meet the growing demand for clean and sustainable energy," said Chuck Xu, global business director, DuPont Photovoltaic Solutions. "The significance of the project transcends its size."
Yingli Solar's dedicated distributed generation team was responsible for the system's design, installation, and interconnection. The project is expected to produce 202,000 kilowatt hours of solar-generated electricity each year, which is roughly the amount of electricity 670 households consume every month in China. It is the 14th solar installation at a DuPont site to date. More than 11 million kilowatt hours of solar energy are produced at DuPont facilities annually.
Covering over 2100 square meters, the DuPont China R&D Center solar installation contains Yingli's monocrystalline product line, PANDA. These panels maximize power output with Yingli's unique, n-type PANDA solar cells, which are made using new DuPont™ Solamet® PV3Nx silver and aluminum metallization pastes. To help ensure long-term durability, DuPont™ Tedlar® film-based backsheets in a double layer construction were specified, and lightweight framing materials from DuPont were utilized to decrease the weight on the roof and ease installation.
"Yingli's collaboration with DuPont is driving key advancements in photovoltaic technology," said Yiyu Wang, chief financial officer, Yingli Solar. "We value our strong relationships with top suppliers such as DuPont, and will continue to work closely with these partners moving forward to improve the performance and accessibility of solar power."
VIDEO: DuPont Photovoltaic Solutions and Yingli Solar Collaborate on China Solar Power Project
Yingli Green Energy Holding Company Limited, known as "Yingli Solar," is the world's largest photovoltaic module manufacturer in terms of production capacity and shipments. Yingli Green Energy's manufacturing covers the photovoltaic (PV) value chain from ingot casting and wafering through solar cell production and module assembly. Headquartered in Baoding, China, Yingli Green Energy has more than 30 regional subsidiaries and branch offices and has distributed more than 10,000 MW PV modules to customers worldwide. For more information, please visit http://www.yinglisolar.com and join the conversation on Facebook, Twitter and Weibo.
DuPont is the leading supplier of specialty materials to the solar energy industry, with the broadest portfolio of products designed to improve the power output, reliable lifetime and return on investment for solar energy systems. To learn more, please visit http://photovoltaics.dupont.com.
DuPont (NYSE: DD) has been bringing world-class science and engineering to the global marketplace in the form of innovative products, materials, and services since 1802. The company believes that by collaborating with customers, governments, NGOs, and thought leaders we can help find solutions to such global challenges as providing enough healthy food for people everywhere, decreasing dependence on fossil fuels, and protecting life and the environment. For additional information about DuPont and its commitment to inclusive innovation, please visit http://www.dupont.com.
Featured Product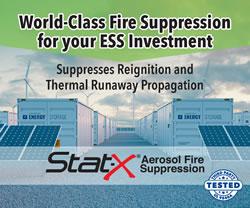 Stat-X® condensed aerosol fire suppression is a solution for energy storage systems (ESS) and battery energy storage systems (BESS) applications. Our Stat-X condensed aerosol fire extinguishing product was tested for efficacy in suppressing li-ion battery fires. It was found that the product successfully extinguished single and double cell battery fires. This testing was conducted in parallel with a large battery fire testing program on behalf of a large energy storage company.