Solar Energy Projects in Morocco and South Africa to Use Molten Salt Energy Storage Technology
DALLAS, Sept. 16, 2014 - Flowserve Corporation (NYSE: FLS), a leading provider of flow control products and services for the global infrastructure markets, announced that it has completed engineering and is now heavily engaged in manufacturing key pumping systems for the Ouarzazate and Bokpoort solar energy projects. Manufacturing is underway at Flowserve facilities in Coslada and Arganda, Spain and Desio, Italy. Orders for these pumps were booked in prior periods. Located in Morocco, the 160-megawatt (MW) Ouarzazate Concentrating Solar Power (CSP) Complex is the first phase of a larger project. Utilizing the same design, the 50-MW Bokpoort CSP Independent Power Project is located near Groblershoop, South Africa.

Both projects are CSP plants that focus the sun's energy on mirrors shaped like parabolic troughs. Heat transfer fluid is pumped through a glass tube at the center of the parabolic troughs to absorb solar energy. The heat from the high-temperature fluid is then used to generate steam to power a standard steam turbine, which generates electricity, and partially transferred to molten salt storage tanks during the peak solar radiation periods to extend the electricity generation. The Ouarzazate project will have enough molten salt storage to allow operation up to 3.5 hours after sunset, while the Bokpoort project will allow operation up to 9 hours after sunset.
The Flowserve pumping systems at the heart of these two CSP plants use heavy-duty, radially split, between bearings pumps for heat transfer fluid (HTF) and vertical turbine pumps for molten salt service. The HTF pumps use variable frequency drives designed to regulate pump speed and optimize the efficiency of the system at elevated temperatures and pressures. These large double suction pumps are engineered to meet ISO 13709/API 610 (BB2) standards. In addition to the HTF and molten salt services, Flowserve also booked the boiler feed water, condensate extraction, cooling water and auxiliary HTF pumps.
"As a pioneer in many of the significant advancements in pumping technology for the power generation industry, Flowserve's extensive experience in high-temperature pumping applications and our history of supplying equipment for solar power plant projects of this magnitude were crucial factors in winning these orders," said Jim Quain, President, Flowserve Sales Organization. "Also important was our ability to supply the entire project's pumping needs as well as our full line of services, including installation, start-up and lifetime maintenance."
Both projects are owned by ACWA Power. Engineering and construction for Ouarzazate is being performed by a Spanish consortium comprised of TSK, SENER and ACCIONA and for Bokpoort by TSK, SENER, ACCIONA and CROWIE Concessions.
Featured Product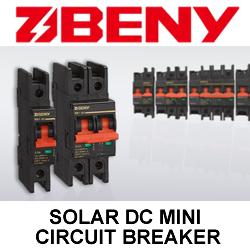 The BB1-63 modular miniature circuit-breakers can be used in solar DC circuits up to 1200 VDC (4-poles execution). Application in solar DC circuits, battery energy storage systems and UPS. Arc flash barrier design keeps solar equipment more safe and reliable. For DC circuit over-current protection.