Company's immediate goal is to grab a majority share of 3000 MW solar tracking system orders on the anvil in the domestic market; it also plans to sell 1000 solar water pumps in the agro sector. To fuel its ambitious growth the company plans to tap the capital market with an IPO sometime in 2015-16
HYDERABAD, India, September 17, 2014: Hyderabad-based SmartTrak, pioneer of solar tracking technology in India, expects to garner a big share of the Solar tracking system business projects during the next 5 years in the domestic and Middle-East markets. SmartTrak is engaged in talks with majority of the project developers in these regions, and it is confident of meeting its sales targets.

Announcing the company's plans, SmartTrak's Chief Executive Officer Bhagawan Reddy said, "In 2014, out of 100 MW Solar power commissioned in the domestic market, we supplied our tracking systems for 20 MW in the region of Telangana and Andhra Pradesh. In the next 5 years our target is to close a total of 1000 MW contract here and the Middle East".
Solar trackers maximize the amount of incoming light by following the sun as it moves across the sky. With solar trackers, the energy production of a photovoltaic plant can be increased up to 45% in optimal locations. With almost no maintenance cost, projects can maximize their return on their investment.
SmartTrak forayed into agriculture sector with a target to sell 1000 solar water pumps fitted with tracking systems. We sold 100 solar water pumps in the current fiscal year itself and hope to reach our target in the next 2 years, Bhagawan announced.
The new solar water pumps SmartTrak rolled out in the market are fitted with SmartTrak's tracking system increases water flow by 79%. The continuous and augmented water supplies enable farmers grow 3 crops instead of 2 in a year.
With several domestic and middle-east projects in the anvil and we being the first movers, we anticipate a turnover of Rs.800 crore in the next five years as our solutions can be "real value differentiators for tapping sun energy" for solar plants, Bhagawan added.
The turnover targets are estimated on the potential surge in demand for its single-axis and dual-axis tracker systems and from its new product offerings such as solar water pumps fitted with tracking systems, weather monitoring systems and tracker control systems. The push to adopt "Make in India" products by the Government is also expected to bring growth in its business.
In the Solar Decathlon Europe 2014 expo held in France in July SmartTrak's indigenously developed roof-top tracking technology received rave customer reviews for generating highest energy. It has the distinction of being the first company in the country to set up a roof-top solar plant in IIT-Mumbai.
SmartTrak also offers "remote monitoring" feature for its solar solutions at no additional cost. This feature enables customers to monitor performance of their solar plants from anywhere using their mobile device.
To meet its goals in the next five years the company also proposes to tap the capital market with an Initial Public Offering. The details of the size of IPO are on the drawing board currently and it will be announced at a later date.
The company also plans to increase its headcount to 100 (from 50 now) by 2015.
About SmartTrak
Hyderabad-based SmartTrak is a pioneer of sun tracking technology in India. The company currently is the leading manufacturer of tracking systems in the country.
SmartTrak's tracking systems have been acknowledged as rugged and reliable producing 38% more energy than fixed systems at less cost. The indigenously developed intelligent microprocessor, the main component of tracking systems, ensures zero-error sun position calculation and rotates solar panels accordingly to tap maximum energy.
The company also offers engineering design and installation services for on-grid and off-grid systems using solar PV.
The company's product portfolio includes: single axis tracking system, dual axis tracking system, roof-top tracking system, tracker control system, solar water pump controller, solar water pump system, string monitoring system and weather monitoring system.
SmartTrak executed more than 18 projects across the country in the last 3 years.
For more information: www.smarttrak.in/
Featured Product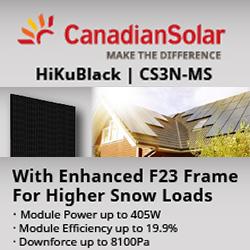 Aesthetic appearance for residential systems: With black backsheet & black frame, Power range 380 ~ 405 W, Low power loss in cell connection. Enhanced reliability: · Low temperature coefficient (Pmax): -0.34 % / °C, LID LeTID less than 2.0%, Lower hot spot temperature, Better shading tolerance.