Available facilities management jobs up 64 percent
Denver, Colorado – September 17, 2014 – According to Ecotech Institute's Clean Jobs Index, the number of positions in the facilities management field has increased by 64 percent in the first two quarters of this year, compared to the same time last year. Ecotech Institute, the only college entirely focused on renewable energy and sustainability training, offers its students hands-on training in the facilities management field, a rapidly growing industry.

Facilities management is the latest program at Ecotech Institute and joins seven other programs at the school, all focused on training students for jobs in sustainability. The facilities management associate's degree program, established in April 2013, prepares students for careers in the field of facility management, focusing on the operation, maintenance, analysis, auditing and cost of energy management systems. Students receive instruction designed to prepare them to analyze, operate, and maintain mechanical and electrical systems.
Ecotech Institute's Clean Jobs Index lists facility management positions now available. To see applicable positions in each state, visit www.ecotechinstitute.com/cleanjobsindex. A sample of possible facilities management jobs that graduates of Ecotech Institute's program could qualify for include: Energy Technician, Energy Auditor, Maintenance Supervisor, and Superintendent of Buildings and Grounds, among others.
Ecotech Institute's Facility Management Technology program was developed in coordination with the International Facilities Management Association (IFMA), the world's largest and most widely recognized association for professional facility managers. IFMA's more than 19,000 members manage more than 37 billion square feet of property worldwide.
"Our Facility Management Technology Program offers the most specific and hands-on education available to students seeking this career path," said Chris Gorrie, Ecotech Institute's academic dean. "They receive the best instruction designed to prepare them for real world application. Our students have developed on-the-job skills before they even graduate, making them fierce competitors for jobs in a rapidly expanding field."
Upon successful completion of the facilities management program, graduates will be able to:
*Operate facility systems in a reliable manner;
*Manage a facility system budget;
*Make data-based analysis of energy utilization patterns for commercial buildings;
*Recognize and correct inefficient building energy system interactions;
*Use appropriate software to obtain information necessary to maintain and optimize building operations;
*Recommend facility improvement plans;
*Apply safety principles to facility management;
*Prepare and present technical and project reports;
*Communicate facility issues effectively at all levels.
In addition to Facility Management Technology, Ecotech Institute currently offers the following degree programs:
*Residential Energy Management
*Solar Energy Technology
*Wind Energy Technology
*Renewable Energy Technology
*Electrical Engineering Technology
*Power Utility Technician
*Business Administration – Sustainability.
For more information on Ecotech Institute, visit www.ecotechinstitute.com.
About Ecotech Institute
Ecotech Institute is the first and only college entirely focused on preparing America's workforce for careers in renewable energy and sustainability and is accredited by the Accrediting Council for Independent Colleges and Schools. Launched in April 2010 in Denver, Colorado, it offers eight highly practical renewable energy degree programs that provide graduates with skills valued by today's alternative renewable energy employers. Classes start once per quarter and applications are always accepted. Financial assistance is available to those who qualify. Ecotech Institute is a division of Education Corporation of America. For more information about Ecotech Institute, visit ecotechinstitute.com or call 877-326-5576.
Featured Product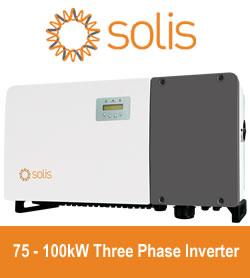 Solis75kW - 100kW series high-power string inverters are widely used in industrial and commercial rooftops. Solis's new three-phase string inverter is the first choice for industrial and commercial photovoltaics. 75-100kW three phase series string inverter have Maximum 28 strings input, support "Y" type connection in DC side. Maximum string input current 13A, support bifacial modules access.Supports anti-PID function to improve system efficiency.