Ray Max ® Power PodiumTM Inverter System was delivered to the largest solar parking lot project in Columbus, Ohio.
September 3, 2014 – Nextronex Inc., a leader in high performance solar inverter systems, is pleased to announce that our Ray Max ® Power PodiumTM Inverter System was delivered to the largest solar parking lot project in Columbus, Ohio. Settle Muter known for their solar projects which include schools, industrial buildings and now parking lots are pleased with the simplicity of incorporating the Power PodiumTM solution for this project.

Jay Troger, CEO of Nextronex, observes that not only does the Power PodiumTM provide a quick field commissioning alternative, the physical format makes for a clean industrial look in an area that will be visible to the public. The Nextronex solution with it's patented Distributed ArchitectureTM inverter system provides SME with proven performance in the field consistently providing higher energy output and 100% uptime. Our track record combined with our standard 10 year system warranty makes Nextronex the right choice for solar developers and Independent Power Producers. Nextronex's reputation of successful installations and quality customer service is a perfect fit for the parking lot solar inverter solution that SME needs.
Dave Caulkins from SME observed that "The delivery of the Inverter System from truck to final position was very efficient and happened in less than 10 minutes.† Once the parking lot canopy solar panels are installed we will just need to hook up some final connections and we will be ready for solar power! This allows for faster field commissioning."
Using parking lot spaces for solar fields is an ideal multiuse of space. The canopy serves as a panel base for the solar panels while providing environmental protection to the parked cars. We expect to see more parking lots around the country taking advantage of this convenient green energy solution.
About Settle Muter Electric
SME is based in Columbus, Ohio and is a full service electrical contractor focusing on commercial/industrial and renewable energy projects. SME provides services in all markets, from schools and higher education to water treatment and healthcare. The renewable energy division of SME works on providing clients with innovative solutions to power their businesses ranging from solar to combined heat and power generation. For more information about Settle Muter, please visit their website at www.settlemuter.com.
About Nextronex
Nextronex, Inc. is a manufacturer of commercial and utility scale proprietary solar inverter systems for applications 150kW and larger. The company is focused on solar energy optimization through its patented distributed inverter architecture design for 1,000 V DC solar array configurations and up to 35,000 V AC grid connect. Nextronex has an installation base of 23 solar projects totaling over 25MW. For more information about Nextronex, please visit their website at www.nextronex.com.
Featured Product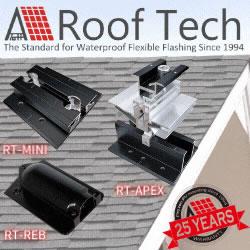 Now Roof Tech brings you the most innovative, watertight mounting systems ever developed for solar photovoltaic systems. Designed and manufactured exclusively for us by Japan's longtime leader in roofing technologies, Roof Tech products are 100% code-compliant and offer fast, simple installation and huge savings on shipping costs due to their compact, rail-less design. Learn more about our full line of versatile PV mounting solutions now available for residential installations. The next generation in rooftop solar mounting solutions."