Ranked #1 third-party EPC player as well as #1 domestic module supplier for 2014
Bangalore, India September 17, 2014

Tata Power Solar, India's largest integrated solar player, has been ranked as the leading domestic player in the India solar industry for 2014. As per the India Solar Map 2014, released by Bridge To India, a leading consulting firm in India's Cleantech market, during 2013-14 Tata Power Solar emerged as the largest third-party EPC player as well as domestic manufacturer of crystalline PV modules in India.
Commenting on the map, Dr. Tobias Engelmeier, Founder & Director, Bridge To India, said, "Our annual India Solar Map is a detailed and easily comprehendible analysis of the market shares of India's solar players. We interact with the EPC companies, module and inverter suppliers and project developers to distill a reliable snapshot of the state of the industry. Over the last 12 months, Tata Power Solar has been the most successful company in executing third party (i.e. discounting own projects) EPC contracts in India. Among the domestic module suppliers category also, it is the leading player. The company has been particularly successful at winning large, public sector projects – one of the key growth drivers in the future." For more details on the map, click here.
Tata Power Solar is ranked #1 for 2014 (in the last 12 months) and #3 for cumulative third-party EPC, rising from a ranking of #9 cumulative third-party EPC in 2013. This makes Tata Power Solar one of the fastest growing third-party solar EPC players in the country.
In the module manufacturing segment, Tata Power Solar has reaffirmed itself as a pioneer and leader among domestic crystalline PV modules manufacturers. The company is ranked #1 domestic manufacturer for 2014 and the only Indian manufacturer among the top 10 module suppliers for the Indian market.
Commenting on the result, Ajay Goel, CEO, Tata Power Solar, said, "We are extremely happy with the findings of the report by Bridge To India. We have been growing aggressively over the last couple of years and this achievement is a testimony to the results we have accomplished during this period."
The company has completed several prestigious EPC projects, including 50 MW for NTPC and commissioning of a 3 MW project for South India's largest rooftop solar plant. They have recently won two orders to supply domestically manufactured solar panels, under DCR, to L N Bangur group and ACME Solar (a subsidiary of EDF Energy).
Tata Power Solar is the only Indian company whose modules are ranked as Tier 1 in Bankability by GTM Research and has been successfully certified by Potential Induced Degradation (PID). Last year they added an additional module manufacturing capacity of 75 MW taking the total capacity to 200 MW.
About Tata Power Solar:
Tata Power Solar (TPS), with 25 years of deep domain expertise, is one of the pioneering solar manufacturers in the world and India's largest specialised EPC player. Founded in 1989, the company was originally formed as a joint venture between Tata Power and British Petroleum Solar (BP Solar). As a pioneer and market leader in the solar space, headquartered in Bangalore, TPS now operates independently as a wholly owned subsidiary of Tata Power. TPS has a strong national presence with 8 regional offices, 40 authorized service centres plus a network of more than 1000 channel partners nationwide.
As one of the largest solar manufacturers in India, TPS operates three world-class manufacturing units in Bangalore, with a production capacity of 200 MW of modules and 180 MW of cells. It has completed more than 160 MW of ground-mount utility scale and 40 MW of rooftop and distributed generation projects across the country as of FY14. It also offers a diverse line of solar products for both urban and rural markets – these include water heaters, home lighting, street lighting, power packs, and water pumps among others. TPS is committed to enabling solar everywhere and aims to provide energy access to millions of people across the country via its integrated solar solutions. For more information visit: http://www.tatapowersolar.com
Featured Product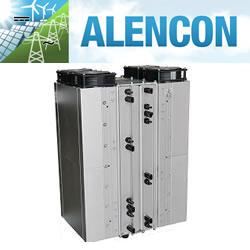 Alencon Systems is the premier manufacturer of high power, high voltage DC:DC optimizers for alternative energy applications including solar, battery energy storage, Microgrids, Fuel Cells and Electric Vehicle charging. Alencon's DC:DC converter offerings include the SPOT, BOSS and CUBE series DC:DC converters. The SPOT is a modular, uni-directional DC:DC solution ideal for solar applications. The BOSS is a modular, bi-directional unit for use with battery energy storage. The CUBE is a monolithic DC:DC converter which is available in both uni-directional and bi-directional modalities. Pictured above, is the Alencon SPOT.