Glennmont formally accepts handover of landmark Sleaford biomass plant
LONDON--Glennmont Partners, the leading investment manager dedicated to clean energy in Europe, has commenced operation of the 38MW Sleaford straw-fired renewable energy plant.

The plant was built by a consortium of Burmeister & Wain Scandinavian Contractor A/S and Burmeister and Wain Energy A/S. Glennmont purchased 100% of the equity in the project in December 2011, and financed the construction through a debt package provided by NIBC Bank NV, RBS, Siemens Bank GmbH and Unicredit Bank AG.
Sleaford will generate enough electricity to power 65,000 homes as well as providing free heat to local sports clubs and community facilities. It will create and support jobs in local agriculture and has been built to perform to the highest environmental standards.
Glennmont Partners continues to develop a diversified portfolio of renewable projects across Europe and across technologies aimed at delivering robust and sustainable returns for its investors. Currently managing a portfolio of more than 300MW of biomass, wind and solar power in France, Ireland, Italy, Portugal and the UK, Glennmont is ready to grow its portfolio with early investments from its second fund.
Joost Bergsma, Managing Partner of Glennmont, said: "Sleaford is a landmark deal not only for Glennmont but for the UK biomass industry as a whole. Glennmont has committed itself to leading the way for institutional investors to realise exceptional value from the renewable energy market, and Sleaford is an excellent example of this."
For further information, please visit: www.glennmont.com
Featured Product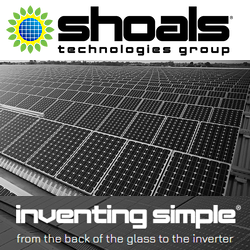 Inventing Simple® isn't just a slogan to us, it's a way of life. Using simple plug-and-play ideology, we revolutionized solar installations in 2003 with our Interconnect System™. Our harnessing system is now the gold standard EPC's use around the world. By using simple ideas, we are making solar energy a more affordable and clean power source for future generations.