Ontario, CA — HatiCon Solar introduces their new UL 467 listed HatiBond splice technology. Speed and ease of solar PV installations are drastically improved with the use of this splice.
HatiCon Solar launches their new UL 467 listed product the HatiBond rail splice. This innovative new technology installs instantly with no tools, cutting, drilling or hardware. Insert the splice into two HatiCon Solar rails to create a structural and electrically bonded connection; no bonding lugs or copper wired required. The revolutionary HatiBond splice technology drastically improves the speed and ease of PV installations, saving time and cutting costs. HatiBond splices are now available for purchase.

HatiCon Solar will be presenting HatiBond technology at this year's Solar Power International (SPI) conference. Attendees can get up close and personal with hands on product demonstrations and see for themselves how this product can transform the way PV mounting systems are installed.
Just for stopping by the HatiCon Solar booth (#2515) attendees can enter to win an Apple® iPad Mini. HatiCon Solar is focused on designing simpler, faster and better PV mounting systems and components.
FOR MORE INFORMATION, CONTACT:
Christine Propster, Sales and Marketing Associate
(909) 235-7153
marketing@haticonsolar.com
About HatiCon Solar
HatiCon Solar, LCC develops & produces high-quality, environmentally responsible mounting systems for the North American photovoltaic solar energy market. The company offers comprehensive IBC compliant mounting solutions for ground, commercial rooftop, and residential rooftop installation that can withstand the harshest of conditions from high wind and snow loads to the abrasive desert heat.
Featured Product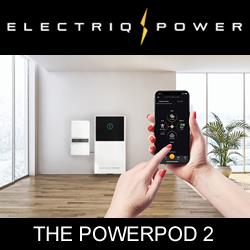 The Electriq PowerPod 2 is a fully-integrated home energy storage, management, and monitoring system powered by LFP batteries. The high-performance, cobalt-free product includes a hybrid solar/battery inverter controlled by intelligent software. The PowerPod 2 provides backup power and can self-consume or export excess power back to the grid.