Stahlin Non-Metallic Enclosures feature a unique composite formula that outperforms all other SMC formulations in retaining gloss/color in constant UV exposure and reducing effects of UV degradation, such as surface roughening and fiberblooming--Ideal and reliable enclosures for solar applications.
The effect of harsh environmental conditions on non-metallic enclosures has been a concern for users for many years. Today, there is a new formula that significantly protects against the effects of UV rays, heat, humidity, and latitude, which prevents the non-metallic material from breaking down and displaying visual signs of deterioration, such as fiber blooming.

The effects of UV light and weathering often become more visible with thermoplastics than with thermosets in a shorter amount of time. This happens because thermoplastic materials have a much lower molecular weight than thermosets. Each bond in thermoplastics cuts the polymers into smaller fragments compared to thermosets, causing the break down and eventual failure of the enclosure material to happen faster.
In thermosets, molecular crosslinking limits the unzipping of the polymer chain, requiring more UV energy to break down the bonds, and thus providing increased UV resistance and weatherability.
Fiber blooming typically will not cause a total breakdown of material during the normal lifetime of the product. The biggest issue is that the visual appearance has been altered. Stahlin Non-Metallic Enclosures found a better way to combat the issue of fiber blooming over 10 years ago, and these innovative composites have begun to replace stainless steel in many applications.
This innovative sheet molding material is made of a patented compound formulation that integrates superior UV resistance. In extensive comparative testing, this material outperforms other available SMC formulations by as much as 60% in its ability to retain gloss and color after exposure to concentrated UV light. In addition, this material is able to reduce the effects of UV degradation, such as surface roughening and fiber blooming.
Fabricated with this unique UV-resistant compound, an enclosure can endure many years of constant exposure to harsh UV rays, and extreme heat and humidity, without any changes to its visual appearance.
Stahlin provides state-of-the-art electrical enclosures made from non-metal material for outdoor and indoor industrial use. All types of electrical junction boxes enclosures are manufactured with the highest attention to detail. Since the 1940's, Stahlin has engineered and manufactured high quality enclosures.
For more information about Stahlin's Non-Metallic Enclosures visit: www.stahlin.com
Featured Product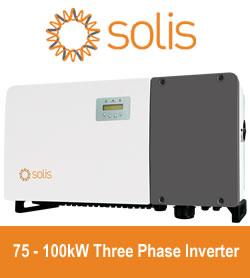 Solis75kW - 100kW series high-power string inverters are widely used in industrial and commercial rooftops. Solis's new three-phase string inverter is the first choice for industrial and commercial photovoltaics. 75-100kW three phase series string inverter have Maximum 28 strings input, support "Y" type connection in DC side. Maximum string input current 13A, support bifacial modules access.Supports anti-PID function to improve system efficiency.