Progress Solar Solutions, LLC has been issued both a device and method patent (US 8,833,985 B2) for mobile, solar powered light towers; solar and wind powered light towers; and solar hybrid light towers that are powered by solar with a built in backup AC (e.g. generator) or DC power source.
Raleigh, NC September 23, 2014

The towable, solar powered light plants utilize high efficiency LED lights for all types of outdoor lighting applications. The portable, solar light carts have a telescoping mast and lights that can be raised, lowered, rotated or tilted, to direct the lights where desired. The units have automated solar wings to generate clean, free renewable energy and then store that energy in a large on-board suite of batteries that provides power to the LED floodlights.
These commercially available light towers made by Progress Solar Solutions, LLC are known as Progress Solar™ Light Towers (SLT™), Progress Solar/Wind™ Light Towers (SLTW™) and Progress Solar/Hybrid™ Light Towers (SHyb™). Currently, Progress Solar has not licensed other companies to utilize its patented technology.
The Progress Solar Light Towers are mobile, totally self-contained, use off-grid power source(s) of clean, free renewable energy, and are noiseless and emissions-free (no carbon or toxic emissions). These Solar Light Towers are both environmentally friendly and cost-effective providing a significantly lower life-time cost of operation than diesel light towers.
The towable, Progress Solar Light Plants are designed to be easily transported and effectively light large outdoor areas for a variety of night time uses, such as sports, music, festivals and other recreational events; construction and other night work related activities like utility and infrastructure work; mining; oil & gas production; security; military operations, base camps and homeland security uses; airport uses; emergency situations; and storm or disaster recovery activities.
Dan Robertson, a co-founder and partner for Progress Solar Solutions, commented, "We are excited about achieving this long awaited milestone. We have pioneered many industry firsts including 1) Solar Light Towers, Solar/Wind Light Towers, Solar/Hybrid Light Towers, the use of LED Floodlights for Light Towers and most recently Variable Intensity LED Lights for Light Towers. It is nice to finally get the recognition and patent protection we have worked so hard for."
About Progress Solar Solutions
Progress Solar Solutions is located in Raleigh, NC and specializes in providing high-performance, eco-friendly and cost-effective solar and lighting solutions for commercial, industrial, government and institutional applications. Proudly made in USA. For more company or product information please call (919) 363-3738 or visit us at http://www.ProgressSolar.com To contact Dan Robertson directly please email at dan.robertson@progresssolar.com
Featured Product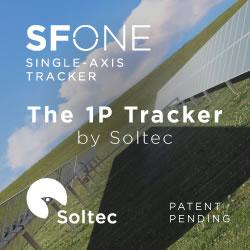 SFOne is the 1P single-axis tracker by Soltec. This tracker combines the mechanical simplicity with the extraordinary expertise of Soltec for more than 18 years. Specially designed for larger 72 an 78 cell modules, this tracker is self-powered thanks to its dedicated module, which results into a lower cost-operational power supply. The SFOne has a 5% less piles than standard competitor, what reduces a 75% the labor time.