Hundreds of thousands of people worldwide attend the People's Climate March
Joining more than 400,000 people in midtown Manhattan alone, and hundreds of thousands worldwide, John Porter, Chief Executive Officer and Founder of Clean Footprint, attended the People's Climate March on Sunday in New York City.

"Being part of the Climate March in NYC was invigorating! The huge turnout of very motivated people gives me hope that our political leaders will get the message and take some serious action. This might take the form of a carbon tax, permanent solar tax credits, removal of tax breaks for fossil fuels and someday the total phase out of the burning of fossil fuels. Hundreds of thousands of people turned out for the climate march which reminds me that the civil rights movement, clean water act and the clean air act all started with these types of marches," said Porter.
Dubbed on Twitter, #CLIMATE2014, activists mobilized in cities across the globe last Sunday to march against climate change. New York was host to one of the largest rallies.
As demonstrators made their way down Sixth Avenue during the People's Climate March, Porter had this to say, "This event, with over 2,700 venues in more than 150 countries is perhaps the largest climate change protest in history – and an important one. This summit is historic because the fight against climate change is about the people who are standing up in our communities to organize, to build power, and to shift power for the good of our planet."
Around the world, celebrities, political leaders, and tens of thousands of people attended the marches against climate change. French Foreign Minister Laurent Fabius, primatologist Jane Goodall, former US Vice President Al Gore, New York Mayor Bill de Blasio, and UN Secretary General Ban Ki-moon participated in the People's Climate March in New York.
"Clean Footprint supports a clean energy economy that allows for clean air and water, a world safe from the ravages of climate change, and one that promotes good jobs and healthy communities," added Porter.
About Clean Footprint
Located in Central Florida, Clean Footprint is fully engaged in solar development, financing, EPC, solar monitoring, and the operation and maintenance of mid-sized commercial solar projects and tax exempt organizations like municipalities, schools and churches. Clean Footprint works together with solar developers to bring solar PV projects to fruition that are reliable, cost effective, and sustainable. For more information, visit http://clean-footprint.com or phone (321) 613-4424.
Featured Product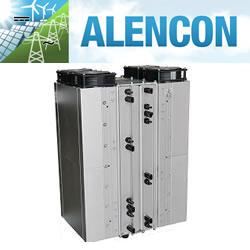 Alencon Systems is the premier manufacturer of high power, high voltage DC:DC optimizers for alternative energy applications including solar, battery energy storage, Microgrids, Fuel Cells and Electric Vehicle charging. Alencon's DC:DC converter offerings include the SPOT, BOSS and CUBE series DC:DC converters. The SPOT is a modular, uni-directional DC:DC solution ideal for solar applications. The BOSS is a modular, bi-directional unit for use with battery energy storage. The CUBE is a monolithic DC:DC converter which is available in both uni-directional and bi-directional modalities. Pictured above, is the Alencon SPOT.