Ecoppia's robotic water-free solution has cleaned over 3 million panels to-date
HERZELIYA, Israel--Ecoppia, an innovative developer of automated, water-free photovoltaic (PV) solar panel cleaning solutions, today announced the deployment of its E4 robotic solar panel cleaning system at five Middle Eastern PV production facilities. Upon the projects' completion in early 2015, Ecoppia's technology will clean more than 5 million panels every month, deployed across more than 40 MW of installations.

The new additions to Ecoppia's portfolio are owned by Arava Power Company, a leading solar developer based in Israel. The five newest E4 deployments are at solar PV production facilities located in the harsh Arava and Negev deserts. Both are notably arid, receive very little rain, and suffer frequent dust storms originating in Saudi Arabia and the Sahara desert.
"Based on stellar results recorded from our Ketura Sun 5 MW project, where Ecoppia technology has been cleaning the site daily since January, and showing increased production as expected, we made the decision to deploy Ecoppia technology on five additional sites," said Jon Cohen, CEO of Arava Power Company. " Ecoppia technology has proven to be totally reliable, customer service to be outstanding, and of course we are meeting our financial expectations, so we are set to continue to deploy Ecoppia technology on additional sites in the near future."
Desert-sited PV systems suffer from frequent dust storms and minimal rain, which can reduce output by up to 35 percent. Ecoppia's water-free technology uses a soft microfiber and controlled airflow to cost-effectively remove 99 percent of solar panel dust daily, maintaining optimal production levels year-round. The self-charging, self-cleaning units are supported by a robust control system to enable remote programming, management and monitoring.
"When we work with forward-thinking companies like Arava Power, we can see the impact our technology is making in the renewable energy industry," said Eran Meller, CEO of Ecoppia. "By ensuring high day-to-day performance and an accelerated ROI from their solar assets, we've created a new standard for plant output that is changing the way operators, investors and governments view the benefits of solar power."
About Ecoppia
Ecoppia designs and produces innovative photovoltaic panel cleaning solutions to cost-effectively maximize the performance of utility-scale installations. The company's water-free, automated technology removes dust from panels on a daily basis to ensure peak output, even in the toughest desert conditions. Supported by a robust control unit, systems can be remotely programmed and managed to minimize O&M costs. Ecoppia is a privately held organization, backed by prominent and experienced international investment funds and led by a team of energy and robotics experts. For more information about Ecoppia please visit www.ecoppia.com.
Featured Product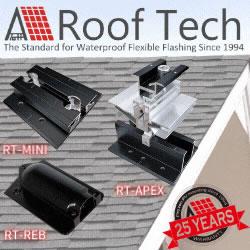 Now Roof Tech brings you the most innovative, watertight mounting systems ever developed for solar photovoltaic systems. Designed and manufactured exclusively for us by Japan's longtime leader in roofing technologies, Roof Tech products are 100% code-compliant and offer fast, simple installation and huge savings on shipping costs due to their compact, rail-less design. Learn more about our full line of versatile PV mounting solutions now available for residential installations. The next generation in rooftop solar mounting solutions."