Sixteen GE 2.5-100 Wind Turbines to Power the Karwice Wind Farm ----Farm to produce 40 megawatts (MW) of power for Poland and region ----Project Further Establishes GE's Commitment to Renewable Energy in Poland
WARSAW—Sept. 23, 2014—Helping to modernize the Polish power infrastructure and reinforcing its commitment to the country's energy sector, GE (NYSE: GE) today announced that it will provide PGE Energia Natury PEW with 16 2.5-100 wind turbines to power its new Karwice Wind Farm located 15 kilometers from Darłowo, Poland. The turbines have the capacity to produce a total power output of 40 MW, which could provide the equivalent power needed for 35,000 European homes.

The wind turbines provided by GE are a part of a turnkey project between PGE Energia Natury PEW and a consortium of Aldesa Nowa Energia Sp. z o.o. (a part of Aldesa Polska) and Aldesa Construcciones S.A. (a part of Aldesa Group from Spain) for the construction of the Karwice Wind Farm. The wind farm will feed power into Poland's 110-kilovolt Sianow-Slawno transmission line.
Adding wind power to Poland's energy sector helps satisfy the country's growing electricity demand and provide macroeconomic benefits, including security, investments, industrialization and the creation of innovative jobs, to the Polish economy.
This contract with PGE Energia Natury PEW further demonstrates our strong commitment to Polish energy and the country's renewable-integration and power-sector modernization efforts," said Cliff Harris, general manager of GE's renewable energy business in Europe. "The 16 turbines that we will be providing for the Karwice project will add to our current Poland installed base of 155 units and increase the total output power capabilities of our wind turbines in Poland to 372 MW."
In addition to providing the wind turbines for the project, GE also will provide the Karwice facility with around-the-clock remote monitoring and diagnostics through its global wind monitoring center in Salzbergen, Germany, which monitors wind turbines in Europe, Africa and Asia.
About GE
GE (NYSE: GE) works on things that matter. The best people and the best technologies taking on the toughest challenges. Finding solutions in energy, health and home, transportation and finance. Building, powering, moving and curing the world. Not just imagining. Doing. GE works. For more information, visit the company's website at www.ge.com.
About GE Power & Water
GE Power & Water provides customers with a broad array of power generation, energy delivery and water process technologies to solve their challenges locally. Power & Water works in all areas of the energy industry including renewable resources such as wind and solar; biogas and alternative fuels; and coal, oil, natural gas and nuclear energy. The business also develops advanced technologies to help solve the world's most complex challenges related to water availability and quality. Power & Water's six business units include Distributed Power, Nuclear Energy, Power Generation Products, Power Generation Services, Renewable Energy and Water & Process Technologies. Headquartered in Schenectady, N.Y., Power & Water is GE's largest industrial business.
Featured Product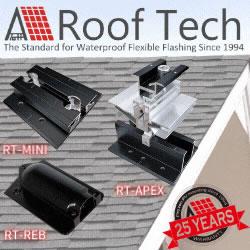 Now Roof Tech brings you the most innovative, watertight mounting systems ever developed for solar photovoltaic systems. Designed and manufactured exclusively for us by Japan's longtime leader in roofing technologies, Roof Tech products are 100% code-compliant and offer fast, simple installation and huge savings on shipping costs due to their compact, rail-less design. Learn more about our full line of versatile PV mounting solutions now available for residential installations. The next generation in rooftop solar mounting solutions."