Extends Warranty Term to 20 Years on Solar Mounts
WALNUT CREEK, CA, September 23, 2014 – Quick Mount PV announced today that it is has doubled warranty coverage for its line of solar roof mounts to 20 years. Effective September 1, 2014, all solar mounts featuring the company's patented technologies—QBlock®, QBase® and QHook®—will be covered with a 20-year limited product warranty.

"We make the highest quality solar roof mounts in the industry," said Quick Mount PV CEO Claudia Wentworth. "Our top-notch engineering, ISO 9001:2008 certified manufacturing, and years of field experience means we can stand behind our products for decades."
Until this change, only the company's flagship product, the Classic Comp Mount, had a 20-year limited product warranty. Quick Mount PV has now extended the warranty to mounting products for all roof types, including E-Mount, QBase Comp, Quick Hook, QBase Universal Tile, QBase Low Slope and more.
Visit quickmountpv.com for more information.
Featured Product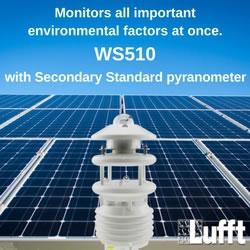 Professional weather sensors form the heart of large solar plants supporting their operation and performance. Lufft was the first manufacturer to combine several sensors in one housing, bringing the largest multiparameter weather sensor family with 19 members into being. Many of them are well-suited for solar site assessment and continuous monitoring. The most commonly used one is the WS600 delivering data on temperature, air pressure, wind, relative humidity and precipitation. Through its open protocol, it can easily be attached to radiation sensors e.g. from Kipp&Zonen. Other models have an integrated Silicon, Second Class or Secondary Standard radiation sensor.