The Haliade should obtain final certification in the last quarter of 2014.
On September 19th, Alstom's next-generation Haliade™ 150-6MW offshore wind turbine, installed just off the Ostend coast at Belgium's Belwind facility, produced its very first kWh. The assembly and the tests conducted have so far helped to optimise the turbine's installation and commissioning procedures at sea. Tests will continue in order to confirm how the machine behaves within a maritime setting, and to fine-tune operation and maintenance procedures. The Haliade should obtain final certification in the last quarter of 2014.

Thanks to its 150-metre rotor (featuring 73.5-metre blades) the Haliade 150-6MW turbine provides 15% more yield than existing offshore turbines, making it capable of supplying power for the equivalent of about 5,000 households.
This next-generation wind turbine operates without a gearbox (by direct drive) thanks to a permanent magnet generator. There are less mechanical parts inside the device, making it more reliable and thus helping to reduce operating and maintenance costs.
Lastly, the Haliade 150 features Alstom's Pure Torque® design, which protects the generator by diverting unwanted mechanical stress towards the tower, thereby optimising performance.
The Haliade will be entirely manufactured in France, at a new wind turbine generator and nacelle plant located in Saint-Nazaire harbour. Last summer, Alstom transferred 150 tonnes of tooling and a few turbines under construction from the temporary workshop to the new factory, which will be fully operational in early 2015, in keeping with the intial schedule.
Ultimately, manufacturing the Haliade is expected to generate 1,000 direct jobs and 4,000 indirect jobs in France.
At this time, Alstom is the exclusive supplier of 238 Haliade 150-6MW wind turbines ordered by the Consortium headed by EDF-EN, as part of the first call for tenders launched by the French Government in 2012. Alstom has also sold 5 Haliade turbines intended for the Block Island wind farm in the United States.
"This project with Belwind asserts our technological leadership and our innovative abilities. The installation of our turbine which is robust and efficient thus contributes in boosting the
ALSTOM Communication competitiveness of offshore wind energy," stated Alstom Wind Senior Vice-President Yves Rannou.
About Alstom
Alstom is a global leader in the world of power generation, power transmission and rail infrastructure and sets the benchmark for innovative and environmentally friendly technologies. Alstom builds the fastest train and the highest capacity automated metro in the world, provides turnkey integrated power plant solutions and associated services for a wide variety of energy sources, including hydro, nuclear, gas, coal and wind, and it offers a wide range of solutions for power transmission, with a focus on smart grids. The Group employs 93,000 people in around 100 countries. It had sales of over €20 billion and booked €21.5 billion in orders in 2013/14.
Featured Product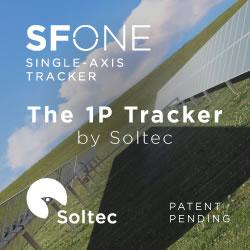 SFOne is the 1P single-axis tracker by Soltec. This tracker combines the mechanical simplicity with the extraordinary expertise of Soltec for more than 18 years. Specially designed for larger 72 an 78 cell modules, this tracker is self-powered thanks to its dedicated module, which results into a lower cost-operational power supply. The SFOne has a 5% less piles than standard competitor, what reduces a 75% the labor time.