Storage Markets, Policy and Technology the Focus of the Industry's Most In-depth and Influential Annual Gathering
WASHINGTON, Sept. 24, 2014 -- The Energy Storage Association's (ESA) 25th Annual Conference, will be held from May 19-21 in Dallas, TX at the Hyatt Regency in the heart of the city. Utilities, project developers, customers, investors, legislators, regulators, and manufacturers from across the country and around the globe will gather for three days of education, networking and deal-making, providing in-depth insights into the state of energy storage markets, technology and policy.

"Energy storage is rapidly evolving, changing the way we think about energy – from generation to delivery," said Matt Roberts, ESA's Executive Director. "Our Annual Conference brings together influential industry leaders with experts in energy storage for interactive education, world-class keynote addresses, and roundtables with policymakers and market influencers."
This year, the conference's Honorary Chair will be David Sandalow, Inaugural Fellow at the Center on Global Energy Policy at Columbia University and former Under Secretary (Acting) and Assistant Secretary for Policy & International Affairs at the U.S. Department of Energy. David brings a global perspective to energy challenges and will assist in developing the conference program and proceedings.
"There has never been a more exciting time in energy storage," said Sandalow. "Costs are falling. Demand is rising. Dynamic businesses that understand the market and regulatory environment are poised for dramatic growth."
This year, the conference will be hosted by Oncor - Texas's largest regulated electric delivery business and one of the biggest in the country. Headquartered in Dallas, Oncor will be a driving force in shaping the event, and provide the opportunity for attendees to visit energy system sites to see storage in action – an initiative the company has been working on for years.
"Storage is the best opportunity to have the most significant and positive impact on improving service to customers, but the only way we can make it a reality is to share information among peers," said Don Clevenger, Oncor SVP of Strategic Planning. "Oncor is very excited to invite the global energy industry to join us in Dallas next year to learn more about the future of energy storage, and see how we are making storage a core facet of our long-term planning."
The ESA's 25th Annual Conference provides attendees a unique opportunity to gain a comprehensive understanding of the key markets for energy storage and what is driving those markets, to network with the senior leaders in the energy industry, and to create opportunity to be part of shaping the future of the energy storage industry.
News about the Annual Conference, registration information and sponsorship opportunities for next year's event are available on our website at Annual-Conference.EnergyStorage.org.
About ESA –
The Energy Storage Association is the national trade association for the energy storage industry whose mission is to promote, develop and commercialize competitive and reliable energy storage delivery systems for use by electricity suppliers and their customers. ESA members represent a diverse group of entities, including electric utilities, energy service companies, independent power producers, and technology developers deploying advanced batteries, flywheels, compressed air energy storage, thermal storage, pumped hydropower, supercapacitors and component suppliers.
To learn more about the Energy Storage Association, please visit www.EnergyStorage.org.
Featured Product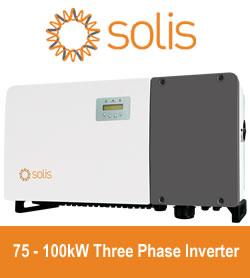 Solis75kW - 100kW series high-power string inverters are widely used in industrial and commercial rooftops. Solis's new three-phase string inverter is the first choice for industrial and commercial photovoltaics. 75-100kW three phase series string inverter have Maximum 28 strings input, support "Y" type connection in DC side. Maximum string input current 13A, support bifacial modules access.Supports anti-PID function to improve system efficiency.