Biomass power and biofuels make record contributions to UK energy
The Government's quarterly Energy Trends publication [1] reveals a record contribution from bioenergy for keeping the lights on and our cars moving whilst reducing greenhouse gas emissions.

In 2014 Q2, bioenergy accounted for a record 5.6TWh (7%) of electricity generation. This is an increase of 8.8% compared with a year earlier, due mainly to the conversions at Drax and Ironbridge, which have started burning sustainable biomass fuel instead of coal.
REA Chief Executive Dr Nina Skorupska said:
"Today's figures highlight the vital role of biomass in the UK electricity mix. With wind speeds below average, wind generation has actually decreased, so it's vital that we get more flexible biomass generation into our low carbon power supply as well as more wind. Biomass has reached a new record today, but this valuable growth won't continue unless the Government puts supportive policies in place."
Over the same period, sustainable biofuels such as biodiesel and bioethanol accounted for 4% of vehicle fuel used in the UK. However, the growth in biofuel consumption is much less consistent than the growth in renewable electricity. Sustainable bioethanol has already reached 4.5% against an overall legal cap of 4.75%. This is holding back UK sales of our own home-grown bioethanol.
To achieve more stable and sustainable growth, the Government must urgently increase this cap under the Renewable Transport Fuel Obligation, support the introduction of higher biofuel blends (such as E10 – 10% bioethanol in petrol) and set a trajectory to achieving the 2020 10% renewable transport target.
REA Chief Executive Dr Nina Skorupska added:
"The fuel in our tanks has never been greener than in the last quarter, which is great news. But our consumption of sustainable biofuels is too unstable at the moment, with inconsistent policies leading to jumps one quarter and drops the next. The Government must remove the artificial constraints on sustainable biofuels, so that current businesses have a UK market to sell into, and future businesses have the certainty they need to invest in the stable growth of the sustainable biofuels industry."
Energy Trends does not cover renewable heat data. The annual Digest of UK Energy Statistics, published in July [2], found that 2.8% of UK heating was renewable in 2013. Given this figure needs to increase to 12% by 2020 to keep the UK on track for its target of 15% renewable energy, the next government must make it a priority to provide certainty on the funding of the Renewable Heat Incentive beyond 2016.
Featured Product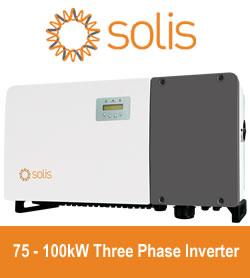 Solis75kW - 100kW series high-power string inverters are widely used in industrial and commercial rooftops. Solis's new three-phase string inverter is the first choice for industrial and commercial photovoltaics. 75-100kW three phase series string inverter have Maximum 28 strings input, support "Y" type connection in DC side. Maximum string input current 13A, support bifacial modules access.Supports anti-PID function to improve system efficiency.