The wind turbines for Vartinoja farm will be equipped with Cold Climate Version to suit the Finnish winter conditions.
Alstom has signed a new contract with Vartinoja 1 Ky to supply a wind farm1 located in Siikajoki, Northern Finland. The turnkey contract is worth €35 million2 and covers the engineering, manufacture, delivery and commissioning of 9 ECO 122 wind turbines of the 2.7 MW capacity model, ideal for medium and low wind sites. Together they will generate a maximum capacity of 24 MW. The contract also includes 12 years of operation and maintenance services.

The wind turbines for Vartinoja farm will be equipped with Cold Climate Version to suit the Finnish winter conditions. The hub height is 119 metres (concrete foundation and steel tower). The construction has been developed by the Finnish company Keski-Suomen Betonirakenne Oy with Alstom's support for its integration.
The civil works at Vartinoja have started in Spring 2014, and the engineering of the wind turbines, which will be built in Alstom's manufacturing facilities in Spain, during spring 2015. The wind farm is scheduled to be in operation in autumn 2015.
The operation and maintenance services (O&M) for Vartinoja will be carried out by Alstom's Finnish unit, which is already operating and maintaining the Muukko 21 MW wind farm with 7 ECO110 wind turbines, supplied by Alstom and in operation since summer 2013.
In Muukko wind farm, Alstom, TuuliMuukko, TuuliSaimaa and Lappeenranta University of Technology (LUT) are also carrying out under an exclusive contract research & development work to deepen the understanding of how wind turbines respond under arctic climate conditions to further improve turbine operations, performance and reliability. The research teams will also study the application of advanced ice detection sensors.
"Alstom is happy to contribute to CO2 free energy production in Finland by supplying the wind turbines for Vartinoja wind farm, stated Alstom Senior Vice President of the Wind business, Yves Rannou. With this project we have strengthened our strategy to be a strong local player in wind power. The R&D cooperation agreement with LUT and TuuliSaimaa to develop cold climate technologies for the wind turbines is on-going and with our excellent local Finnish engineering partners we have an exciting possibility to build on a compelling offering for the Nordic market."
1 Owned by LähiTapiola and TuuliSaimaa.
2 The contract will be booked during the second quarter of Fiscal year 2014/2015.
About Alstom
Alstom is a global leader in the world of power generation, power transmission and rail infrastructure and sets the benchmark for innovative and environmentally friendly technologies. Alstom builds the fastest train and the highest capacity automated metro in the world, provides turnkey integrated power plant solutions and associated services for a wide variety of energy sources, including hydro, nuclear, gas, coal and wind, and it offers a wide range of solutions for power transmission, with a focus on smart grids. The Group employs 93,000 people in around 100 countries. It had sales of over €20 billion and booked €21.5 billion in orders in 2013/14.
About Alstom Wind
With over thirty years of experience in wind power, Alstom provides global energy solutions from developing, designing and setting-up wind farms to supplying and maintaining wind turbines. The company offers a range of onshore wind turbines with power ratings spanning up to 3 MW, providing solutions for all types of geographical locations and weather conditions. To date Alstom has installed or is installing more than 3,000 onshore wind turbines in almost 170 wind farms with a total capacity of more than 5,800 MW.
Featured Product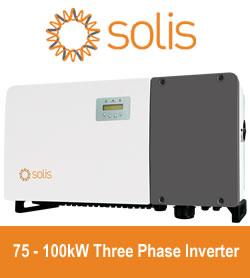 Solis75kW - 100kW series high-power string inverters are widely used in industrial and commercial rooftops. Solis's new three-phase string inverter is the first choice for industrial and commercial photovoltaics. 75-100kW three phase series string inverter have Maximum 28 strings input, support "Y" type connection in DC side. Maximum string input current 13A, support bifacial modules access.Supports anti-PID function to improve system efficiency.