2MWp plant in New Caledonia for TIEA Energie ---- David McCallum, MD Conergy Australia: "It will probably be the world's first beautiful PV plant, and perhaps the first beautiful power station of any description."
BRISBANE/ MIAMI, September 24, 2014 – Following the UN climate talks this week in New York City, Conergy, one of the world's biggest solar companies, announced that it will build a one-of-a-kind heart-shaped solar power plant in the French overseas territory of New Caledonia, 750 miles east of the Australian Gold Coast.

The four-hectare site is located in the northern community of Pouembout, on Grand Terre, New Caledonia's largest island, where 7,888 panels will generate enough electricity to supply 750 homes. The 2MWp project was commissioned by TIEA Energie, a subsidiary of local beverage company Froico SA. Conergy will begin engineering and construction (EPC) work in the coming months, partnering with local contractor AMBI Energy.
The power plant's eye-catching heart shape will only be visible from the air, when it is completed in the first quarter of next year. Called the "Heart of New Caledonia", it will save an estimated two million tonnes of carbon dioxide emissions over its projected 25-year lifetime, compared with power from fuel oil, gasoil and coal, which generate the majority of the islands' power today.
The unique design is inspired by the "Coeur de Voh", or "Heart of Voh", an area of nearby wild mangrove vegetation that has naturally taken the shape of a heart. The "Coeur de Voh" gained worldwide recognition thanks to the aerial photography of environmental campaigner Yann Arthus-Bertrand in the best-selling book, "The Earth from Above."
David McCallum, Managing Director, Conergy Australia, said: "Conergy builds all kinds of solar plants in challenging places and conditions, but we've never been asked to do one in the shape of a heart, or any other shape before. The "Coeur de Voh" is an important landmark for the people of New Caledonia, and shows just how extraordinary nature can be. The "Heart of New Caledonia" solar plant will be its man-made double, a landmark for clean power generation, showing that we can add new power plant wherever it's required, and still keep a lid on carbon emissions. It will also probably be the world's first beautiful PV plant, and perhaps the first beautiful power station of any description, anywhere on the planet."
To date this year, Conergy has connected over 650 MWp of new solar capacity worldwide, including the Philippines' first utility-scale plant (13MWp) and a 37MWp solar plant in British Prime Minister David Cameron's parliamentary constituency, for European utility RWE. Complex projects under construction include new power plants on disused coal mines in South Wales, United Kingdom (13.5MWp) and British Columbia, Canada (2MWp).
For photography, artist's impressions or requests for interviews, please contact:
Australia & Oceania
Melissa Murchison
m.murchison@conergy.com.au
+61 (0)7 3465 0400
France, Europe exc. Germany
Peter Browning
peter@browningpr.com
+44 20 3542 1435
Germany
Moritz Rommerskirchen
moritz@browningpr.com
Americas
Grant Draper
gdraper@browningpr.com
About Conergy
Conergy is one of the world's largest downstream solar companies, specializing in the design, finance, build and operation of high performance solar systems for homes, businesses and utility-scale power. Founded in 1998, the company pioneered the expansion of solar power internationally, and today combines innovative technology, industry-leading engineering with access to capital. Headquartered in Hamburg, Germany, Conergy has a global sales network and established subsidiaries in 11 countries. The company is privately-held and majority-owned by Miami-based asset management firm Kawa Capital Management, Inc.
Featured Product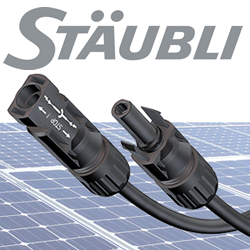 ​Stäubli Electrical Connectors are used on more than 300 GW, over 50% of the PV capacity worldwide. The MC4 family of UL and TUV listed products include connectors, in-line fuses, branch connectors, cable assembly and more.