The global solar industry is finally united.
Amsterdam, September 25th, 2014 – Today marks the launch of the first ever-global business and technology association for the solar industry.

In an extraordinary meeting in Amsterdam during the 29th EU PVSEC, members of the International Photovoltaic Equipment Association (IPVEA) unanimously approved the association's new vision, expansion plans and associated re-branding.
"The concept behind IPVEA's new name expansion is that we want to unite the whole solar industry value chain as well as associated industries, such as energy storage, utilities and grid operators, through a collaborative approach," says "SOLARUNITED" President Eric Ast, who also serves as Senior Manager of Global Business Development at Multi-Contact.
"This organization unifies leaders across the solar industry and associations, and our company is proud to contribute to this important first ever global initiative," notes CSUN's EMEA General Manager Engin Yaman, one of the newest members of the organization.
"SOLARUNITED" Board Member Richard Moreth, Head of PV Sales at Vitronic adds that this is an important move for the organization. "The association remains focused strongly on technology but now with the involvement of key stakeholders we can provide more opportunity to improve quality and reliability," explains Moreth.
This move also allows the integration of more players. "The primary benefit of the new SOLARUNITED is that it provides a non-competitive environment for all national and regional organizations that have not collaborated yet in an official way," says SOLARUNITED Managing Director Bryan Ekus.
As a next step, SOLARUNITED will assemble strategy committees to focus on the most important issues for the industry with leaders and experts throughout the solar value chain. The organization welcomes the participation of additional solar companies, which can join through the recommendation of current members.
IPVEA was established in May 2008 and is an independent, non-profit organization. The members of IPVEA promote a path of cooperation and mutual support in achieving proactive solutions between all sectors within the Solar Power Generation and Energy Storage Technology value chain.
As of 25 September 2014, IPVEA has expanded into SOLARUNITED – Global Solar Business and Technology Association.
For more information please refer to: www.ipvea.org
or please contact:
SOLARUNITED – Global Solar Business and Technology Association
P.O. Box 771507, Orlando, Florida 32877, USA
Managing Director: Bryan Ekus, or
Press Office Germany:
Bernhard Krause, Tel: +49-61819828020, Mobile: +49 1709202924
If you need the picture in high resolution, please do not hesitate to contact Bernhard.krause@go-metacom.de.
Featured Product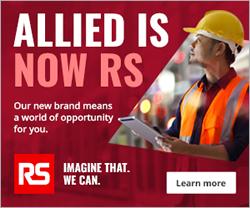 Moxa is a leader in edge connectivity, industrial computing, and network infrastructure solutions for enabling connectivity for the Industrial Internet of Things. With over 30 years of industry experience and 65 million devices connected worldwide, Moxa has a distribution and service network to serve customers in more than 80 countries. Now at Allied-find over 1,000 products from Ethernet switches, protocol converters, routers, and more. Allied Electronics & Automation, part of RS Group & Automation, part of RS Group is an authorized distributor of Moxa.