Lithium ion systems have crossed a threshold in terms of deployments, report finds
BOULDER, Colo.--A new report from Navigant Research provides a comprehensive resource of grid-scale energy storage projects worldwide, including a database of 697 projects encompassing 1,160 systems.

Government funding, subsidies, and regulatory reforms continue to encourage the growth of the market for grid-scale energy storage systems. While lithium ion (Li-ion) technology has emerged as the global leader in new energy storage projects, flywheels and flow batteries are also making significant headway. Click to tweet: According to a new report from Navigant Research, 91 new grid-scale energy storage systems, representing total capacity of 362.8 megawatts (MW), were launched or announced between January 1, 2013 and September 30, 2014.
"This is a critical time for the advanced energy storage industry," says Anissa Dehamna, senior research analyst with Navigant Research. "The market has started moving quickly across a number of technologies, but in order for the industry to continue to scale, more systems integrators are needed."
The 2013-2014 period has been particularly active for Li-ion technology, with 168.6 MW announced in the past 2 years, according to the report. Currently, there are 236.3 MW of Li-ion deployed globally. The second leading energy storage technology in regard to new market activity is sodium sulfur batteries ó primarily the result of a new deal in Italy and a renewed deal in the United Arab Emirates.
The report, "Energy Storage Tracker 3Q14," provides a comprehensive resource of energy storage projects worldwide. The Tracker includes a database of 697 projects (encompassing 1,160 systems) and tracks the country, region, market segment, capacity, status, technology vendor, systems integrator, applications, funding, investment, and key milestones of each project. In addition, the report includes analysis of the technology choice within each major region for energy storage, analysis of leading regions for energy storage capacity and projects, and market share analysis for technology vendors for deployed projects and projects in the pipeline. An Executive Summary of the report is available for free download on the Navigant Research website.
About Navigant Research
Navigant Research, the dedicated research arm of Navigant, provides market research and benchmarking services for rapidly changing and often highly regulated industries. In the energy sector, Navigant Research focuses on in-depth analysis and reporting about global clean technology markets. The team's research methodology combines supply-side industry analysis, end-user primary research and demand assessment, and deep examination of technology trends to provide a comprehensive view of the Smart Energy, Smart Utilities, Smart Transportation, and Smart Buildings sectors. Additional information about Navigant Research can be found at www.navigantresearch.com.
About Navigant
Navigant is a specialized, global expert services firm dedicated to assisting clients in creating and protecting value in the face of critical business risks and opportunities. Through senior level engagement with clients, Navigant professionals combine technical expertise in Disputes and Investigations, Economics, Financial Advisory and Management Consulting, with business pragmatism in the highly regulated Construction, Energy, Financial Services and Healthcare industries to support clients in addressing their most critical business needs. More information about Navigant can be found at www.navigant.com.
Featured Product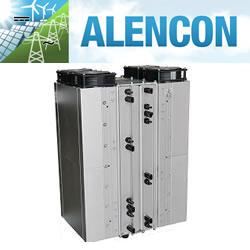 Alencon Systems is the premier manufacturer of high power, high voltage DC:DC optimizers for alternative energy applications including solar, battery energy storage, Microgrids, Fuel Cells and Electric Vehicle charging. Alencon's DC:DC converter offerings include the SPOT, BOSS and CUBE series DC:DC converters. The SPOT is a modular, uni-directional DC:DC solution ideal for solar applications. The BOSS is a modular, bi-directional unit for use with battery energy storage. The CUBE is a monolithic DC:DC converter which is available in both uni-directional and bi-directional modalities. Pictured above, is the Alencon SPOT.