Part of Successful Start-Up of Bifacial High Efficiency N-Type Cell Line at Mission Solar Energy LLC
TEMPE, Ariz., Oct. 1, 2014 -- Amtech Systems, Inc. (NASDAQ: ASYS), a global supplier of production and automation systems and related supplies for the manufacture of solar cells, semiconductors, and sapphire and silicon wafers, today announced its solar subsidiary, Tempress Systems, has received the second field acceptance of its PECVD production tools as part of Mission Solar Energy's 100MW cell line in San Antonio, Texas, implementing next generation, high efficiency n-type cell technology.

Mr. Fokko Pentinga, Chief Executive Officer of Amtech, commented, "Our innovative technology solutions are clearly bringing value to our customers. We are happy to announce this second acceptance for our world class PECVD system. The PECVD system is an important strategic product we developed during the solar down cycle to aggressively support the solar growth opportunity during the next recovery cycle and provides us the opportunity to double the size of our served available market. Our ongoing objective is to bring new technology solutions to the market and advance our customers' production capabilities. Plus, as a global leader in our space we expect to outperform the market as solar technology solutions evolve and the next phase of the industry's growth accelerates."
About Amtech Systems, Inc.
Amtech Systems, Inc. manufactures capital equipment, including silicon wafer handling automation, thermal processing and ion implant equipment and related consumables used in fabricating solar cells, LED and semiconductor devices. Semiconductors, or semiconductor chips, are fabricated on silicon wafer substrates, sliced from ingots, and are part of the circuitry, or electronic components, of many products including solar cells, computers, telecommunications devices, automotive products, consumer goods, and industrial automation and control systems. The Company's wafer handling, thermal processing and consumable products currently address the diffusion, oxidation, and deposition steps used in the fabrication of solar cells, LEDs, semiconductors, MEMS and the polishing of newly sliced silicon wafers.
Featured Product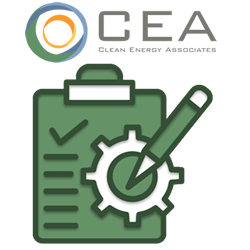 Clean Energy Associates provides a complete quality assurance solution that covers the entire product lifecycle of PV modules, storage systems, and every Balance of Sy stem (BOS) component. CEA's experienced on-the-ground and international team of quality control engineers and account managers offer an unparalleled quality assurance presence that can protect solar and storage investments and ensure future energy-producing viability for the life of the product.