Solar Impulse 2 is a solar-powered aircraft capable of flying day and night without using a drop of fossil fuel.
CRANBURY, N.J.--When the world's newest solar-powered aircraft takes off for its landmark 'round-the-world voyage next year, light-weight, high-strength plastics, films, fibers, lubricants and coatings from the Brussels-based Solvay Group will help the Solar Impulse 2 aircraft achieve new milestones for energy efficiency and materials science.

Solar Impulse 2 is a solar-powered aircraft capable of flying day and night without using a drop of fossil fuel. It is also an airborne laboratory making way for innovative technological solutions capable of meeting today's challenges head-on.
Fourteen Solvay products are found in more than 6,000 components of Solar Impulse 2. Solvay researchers also supported the plane's design with non-linear numerical modeling techniques.
Solvay products are also found on the inflatable mobile hangar that can be used to house Solar Impulse 2 where more permanent structures are unavailable. Even the pilots' in-flight apparel includes novel "smart" fibers from Solvay that help to stimulate micro-circulation of the blood and enhance muscle performance.
"Solvay is proud to continue our engagement with the Solar Impulse mission as it reaches its climax in next year's First Round-the-World Solar Flight," explained Claude Michel, project manager for Solvay's Solar Impulse partnership. "The imagination and technical expertise of Solvay scientists, combined with our energy transition strategy and innovative product portfolio help to achieve the highest energy efficiency with the highest structural stability for the plane," Michel added.
"Energy efficiency and structural stability are key ingredients in the success of the first Solar Impulse plane that crossed America last year, and the new plane that will circle the globe next year. Although these are novel applications, the products themselves are already available for countless industrial, commercial and consumer applications as well."
The round-the-world tour of Solar Impulse 2 will begin in Abu Dhabi in March, 2015 and is expected to take 25 flying days over a period of 4-5 months. Solar Impulse is currently finalizing the stages after Abu Dhabi and looks to make stopovers in Asia, the United States and in Southern Europe or North Africa before returning to Abu Dhabi in July 2015. Some flights over the Pacific and the Atlantic will last 5-6 days, a feat made possible by Solar Impulse 2's ability to fly almost indefinitely without fuel.
The announcement of Abu Dhabi as the start and finish of the first solar-powered flight around the world was made in New York last week during the United Arab Emirates reception on the sidelines of the United Nations General Assembly.
Solvay, a global producer of chemicals and specialty polymers, is an original partner in the Swiss-based Solar Impulse mission, providing manufactured products and technical expertise in materials science to the mission since 2004. Solvay was also a main partner in last year's Solar Impulse flight "Across America," when the plane flew from Moffett Airfield near San Francisco to New York's JFK International Airport from May until July, with interim stops in Phoenix, Dallas-Fort Worth, St. Louis, Cincinnati and Washington, D.C.
Across the country, tens of thousands of researchers, engineers, chemists, students, government officials, aviation enthusiasts and members of the general public witnessed historic takeoffs and landings, viewed the plane close-up and learned of its historic mission. At each stop, pioneering pilots Bertrand Piccard and Andre Borschberg spread their "pioneering spirit" to young and old alike, from airport hangars, to the Smithsonian Air & Space Museum and Annex, to the halls of Congress.
As an international chemical group, SOLVAY assists industries in finding and implementing ever more responsible and value-creating solutions. Solvay generates 90% of its net sales in activities where it is among the world's top three players. It serves many markets, varying from energy and the environment to automotive and aeronautics or electricity and electronics, with one goal: to raise the performance of its clients and improve society's quality of life. The group is headquartered in Brussels, employs about 29,400 people in 56 countries and generated 9.9 billion euros in net sales in 2013. Solvay SA (SOLB.BE) is listed on NYSE Euronext in Brussels and Paris (Bloomberg: SOLB:BB - Reuters: SOLB.BR).
Featured Product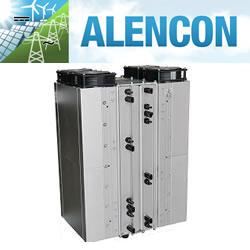 Alencon Systems is the premier manufacturer of high power, high voltage DC:DC optimizers for alternative energy applications including solar, battery energy storage, Microgrids, Fuel Cells and Electric Vehicle charging. Alencon's DC:DC converter offerings include the SPOT, BOSS and CUBE series DC:DC converters. The SPOT is a modular, uni-directional DC:DC solution ideal for solar applications. The BOSS is a modular, bi-directional unit for use with battery energy storage. The CUBE is a monolithic DC:DC converter which is available in both uni-directional and bi-directional modalities. Pictured above, is the Alencon SPOT.