Pick My Solar provides bids, evaluation and advocacy to make shopping solar easy.
Los Angeles, Calif. October 01, 2014

There's no denying that solar power is an innovation whose time has come. According to GTM Research's U.S. Solar Market Insight Report, in 2013, a new solar system was installed every four minutes, and projections suggest that the industry will keep on growing. By 2016, GTM anticipates a new solar installation every 80 seconds, or 362,000 installations within the year.
However, this same study also predicts that, in order to meet this goal, the solar industry will spend about one billion dollars in lead generation and customer acquisition efforts. Leads from lead generation services can cost the solar sales rep hundreds of dollars, and to the detriment of the industry, the expensive nature of these leads results in aggressive sales pitches and telemarketing tactics that have earned solar shopping a negative reputation on par with purchasing a used car or a time-share.
In an attempt to mitigate this industry-wide issue, solar marketplaces are stepping in to offer a new way of connecting solar providers with the people who want their services.
One such marketplace is Los Angeles-based startup Pick My Solar. As an online solar purchasing facilitator, Pick My Solar provides free bid generation, analysis, recommendations and advocacy for customers, alongside solid, cost-effective leads for solar installation companies. Pick My Solar obtains a minimum of seven bids from reputable providers and makes recommendations based upon the specific requirements of the customer. This method eliminates the need for aggressive lead generation on the part of the installer, and time-intensive bid gathering and evaluation on the part of the customer.
"Pick My Solar was born from a desire to do better on both sides of the solar purchasing equation," says Pick My Solar founder Max Aram. "Pick My Solar allows for a stress-free shopping experience for the customer, and a quality, cost-effective lead generation service for the installer. The advocacy we provide throughout the installation process makes the whole experience easy, while our bid gathering and analysis reduces overall marketing costs. Those savings are passed on to our customers, and it's a win for everyone."
Southern California solar shoppers are already reaping the benefits of the Pick My Solar online shopping and advocacy marketplace. PickMySolar.com has been providing bid generation, analysis and advocacy for the past year and recently redesigned their website for an even more enhanced user experience. While a strategic nationwide expansion is in the works, in the meantime, Aram suggests observing the following guidelines when shopping solar:
-Read the fine print. Oftentimes, unnecessary extended warranties are built into contracts, and, when financed, they can make a significant unwanted contribution to overall cost.
-Only use a reputable installer, and ask to see jobs they've completed in your area. Don't just go for the lowest-priced bid—those savings may come as the result of shoddy workmanship or lower-quality equipment.
-If you're confused about the financing options, seek assistance from your bank or other reputable source. It's important to know which finance plan is right for your specific housing and financial situation.
"We're passionate about solar and we want to see it on every compatible rooftop in America," concludes Aram. "Providing consumer advocacy and a transparent sales process is the next step in making that happen."
Visit http://www.pickmysolar.com for more insight into the benefits of shopping through a solar marketplace.
About Pick My Solar: Pick My Solar is an online solar purchasing marketplace, providing shoppers with high quality bids from local solar installers and advocacy throughout the installation process. Pick My Solar was founded in 2013 by Max Aram and Chris Blevins, both passionate supporters of solar energy. The overarching mission of Pick My Solar is to simplify the solar purchase process, drive down costs and provide the consumer advocacy necessary for solar to achieve broad market success. For more information, please visit: http://www.pickmysolar.com.
Featured Product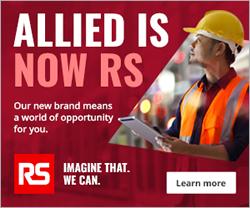 Moxa is a leader in edge connectivity, industrial computing, and network infrastructure solutions for enabling connectivity for the Industrial Internet of Things. With over 30 years of industry experience and 65 million devices connected worldwide, Moxa has a distribution and service network to serve customers in more than 80 countries. Now at Allied-find over 1,000 products from Ethernet switches, protocol converters, routers, and more. Allied Electronics & Automation, part of RS Group & Automation, part of RS Group is an authorized distributor of Moxa.