Global Energy Management specialists Schneider Electric launch the Galaxy VM UPS, a new three-phase uninterruptible power supply that employs the latest energy efficiency technology.
London, United Kingdom 3 October 2014

Schneider Electric, a global specialist in energy management, today announced the availability of Galaxy VM, a new three-phase uninterruptible power supply (UPS) that employs the latest energy efficiency technology and fully integrates with Schneider Electric energy management solutions.
"Galaxy VM represents the best of Schneider Electric, capitalising on our 45 years of reliable power protection design while seizing the opportunities presented by new, energy efficient technologies," said Pedro Robredo, Vice President, Secure Power, Schneider Electric. "Facility and IT managers can count on Galaxy VM to work with existing systems, while helping drive business results by reducing energy consumption and its related costs."
The Galaxy VM UPS reduces energy costs through its innovative 99 percent efficiency ECOnversion™ mode, which comes with input harmonic correction while combining the advantages of double conversion on-line and advanced ECO mode technologies to operate at the greatest efficiency without putting data centre loads at risk. This is particularly important as data centre operators and managers must balance the need for optimal energy efficiency with maximum uptime and availability.
Additionally, the Galaxy VM offers flexible energy storage solutions with swappable modular battery modules and fans that can be replaced without the need to go to maintenance bypass, thus increasing availability and load protection.
Designed to integrate into existing electrical, physical and monitoring environments, Galaxy VM works with Schneider Electric's StruxureWare® data centre infrastructure management (DCIM) software applications, building management systems (BMS) and Modbus protocol.
Enhancing its ease of installation, the Galaxy VM has a highly compact footprint, allowing for top and bottom cable entry, integrated casters for ease of mobility and back-to-the-wall installation requiring zero clearance enabling to be deployed in seismic zones. Galaxy VM is also easily configured with Schneider Electric's ISX Designer configuration tool.
Galaxy VM is a key component of Schneider Electric's comprehensive energy management solution for data centre and industrial applications. For more information about this product and Schneider Electric's energy management solutions, please visit the Power Management Systems product website and Schneider Electric TV for product showcase videos.
Featured Product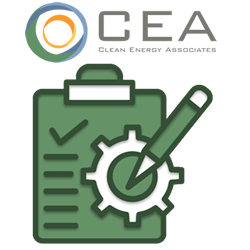 Clean Energy Associates provides a complete quality assurance solution that covers the entire product lifecycle of PV modules, storage systems, and every Balance of Sy stem (BOS) component. CEA's experienced on-the-ground and international team of quality control engineers and account managers offer an unparalleled quality assurance presence that can protect solar and storage investments and ensure future energy-producing viability for the life of the product.