Leading prefabricated house manufacturer chooses ASD as its storage system supplie
Freiburg/Germany, 7th October 2014 – Germany's leading manufacturer of prefabricated houses, WeberHaus, is now to employ the innovative energy storage systems supplied by ASD Automatic Storage Device. The ASD solar storage system was tested for seven months in a generation5.0 showhome located at the WeberHaus exhibition site in Rheinau-Linx near the German city of Freiburg. ASD has now been commissioned to supply all of WeberHaus's storage systems.

"After testing storage systems from several manufacturers, it became clear that the ASD solar storage system was the right choice for us, as the company currently supplies the most innovative storage systems on the market," explains Holger Heid, product manager at WeberHaus. "With an efficiency level of around 90%, the ASD storage system is extremely efficient and provides customers with faster payback on their investment. The device's safety also played a key role in our decision – the storage system from ASD employs lithium iron phosphate battery technology, which means that there is no chance of it exploding or burning. As a result, there is no need for special ventilation at the installation site." In the event that the battery overcharges, no lithium metal is deposited and no oxidising agent is released. And, as a plug and play solution, the storage system only takes around an hour to install.
Homeowners can consume up to 90 percent of the solar power they generate on site themselves using an ASD storage system. This is thanks to intelligent control electronics which minimise the amount of electricity bought from the power grid to the greatest possible extent. Unlike most storage systems on the market, the system is connected to all three phases, enabling it to supply solar power to all of the devices in a building. The building is disconnected from the power grid as soon as the storage system supplies enough solar energy. It takes just one millisecond for the electronics to switch between the power grid and battery, making the system significantly quicker than its conventional counterparts. Even in the event of a power cut, all appliances in the building will continue to function without interruption. Thanks to the three-phase operation, customers have no need to worry about which appliances they want to operate using stored energy during a power cut. The storage system even charges the batteries during bad weather – from as little as 1 watt of surplus power generated by the PV installation.
"We are absolutely delighted to become the exclusive storage system supplier for Germany's largest manufacturer of prefabricated houses. This represents a real milestone for us and motivates us to continue working on innovative storage solutions. It is my vision to make energy storage affordable for everyone and, through our storage systems, promote energy independence in as many households and companies as possible. This is what drives me," reports Wolfram Walter, Managing Director of ASD and storage system expert. He founded the company in May 2013 together with engineer Gerd Knoll, the founder and managing director of mechanical engineering company Knoll-Feinmechanik. ASD has already filed five patent applications for its storage system.
Furthermore, the ASD solar storage system fulfils all the KfW incentive programme requirements for storage systems with a seven-year fixed value guarantee.
About ASD
ASD Automatic Storage Device GmbH is headquartered in Umkirch, near the German city of Freiburg. The company was founded in May 2013 by engineers Wolfram Walter and Gerd Knoll. ASD produces an intelligent solar energy storage system that uses control electronics to enable households or commercial enterprises to be as self-sufficient as possible. The storage system is based on lithium iron phosphate battery technology and was developed by Wolfram Walter in 2011. The ASD solar storage system is manufactured in Germany.
www.asd-sonnenspeicher.com
About WeberHaus
WeberHaus GmbH & Co. KG manufactures prefabricated family homes and apartment buildings as well as commercial properties and other structures using wood. Each year, the company produces some 750 houses for the European market at its factories in Rheinau-Linx in Baden-Württemberg and Wenden-Hünsborn in North Rhine-Westphalia, Germany. In addition to Germany, WeberHaus conducts business in Luxembourg, the United Kingdom, Ireland, France, Austria and Switzerland. WeberHaus employs around 1,000 members of staff and, in 2013, boasted an annual turnover of approximately 200 million euros.
www.weberhaus.com
Featured Product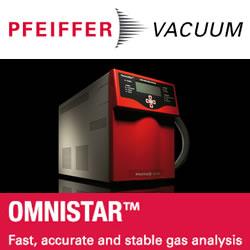 The Pfeiffer Vacuum OmniStar benchtop analysis system offers you a compact footprint, powerful software and Ethernet connectivity. It's the optimum solution for many real-time gas analysis applications. With the OmniStar, Pfeiffer Vacuum offers you a complete solution for gas analysis, in chemical processes, semiconductor industry, metallurgy, fermentation, catalysis, laser technology and environmental analysis. The turnkey OmniStar gas analysis system consists of heated, temperature-regulated gas inlet system, Quadrupole mass spectrometer, a dry diaphragm vacuum pump and HiPace turbopump. Unlike competing methods such as FTIR, OmniStar is suitable for qualitative and quantitative analysis of most gases.