The system will be used as part of a research and development project supporting offshore wind generation.
October 7, 2014

AXYS Technologies Inc (AXYS) is pleased to announce that a major Eastern United States energy company has awarded AXYS the contract to supply a WindSentinel floating LiDAR system. The system will be used as part of a research and development project supporting offshore wind generation.
"One of the key objectives of this project is demonstrate how wind power can be generated offshore in the United states at a cost comparable to conventional generation sources," says Chad MacIsaac, International Accounts Manager at AXYS. "AXYS is pleased to support this objective by the application of floating LiDAR technology, which reduces the cost of offshore wind resource assessment by a factor of ten."
The WindSentinel is expected to be deployed in the first quarter of 2015 and will gather comprehensive wind speed and wind direction data up to heights of 200m, along with metocean data including directional waves, ocean currents, tide, salinity, water temperature, atmospheric pressure and air temperature. This data will help the project stakeholders to understand the wind resource available at the proposed development location and lay the ground work for future offshore wind development at a commercial scale in the region.
AXYS Technologies Inc. designs, manufactures, distributes and maintains remote environmental data acquisition, processing and telemetry systems. For further information contact AXYS at: info@axys.com or www.axystechnologies.com.
Featured Product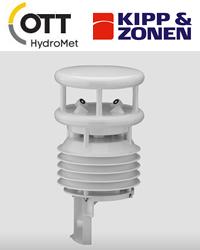 The WS50PV is an affordable, compact all-in-one weather sensor measuring the most critical parameters for commercial and industrial PV monitoring. Equipped with a suite of professional measuring sensors, the WS50PV can handle air temperature, relative humidity, barometric pressure, wind direction, and wind speed in one efficient housing to simplify mounting. Add an external temperature or rain sensor to the single-wire digital Modbus interface for fast and easy integration. The WS50PV is the tool you need for unlocking solar energy performance.