APS microinverters have entered the Colorado and greater mountain regional market through a new partnership with Denver-based Clean Energy Distribution.
Seattle, WA October 08, 2014

It marks the latest in a series of pacts with leading distributors for APS this year, bringing the company's line of advanced microinverter products to solar consumers throughout the American market.
Colorado is renowned as one of the nation's most progressive states for solar, with an array of voter-approved, state and local incentives and benchmarks in place to promote alternative energy production. The state ranks third nationwide in terms of installed PV production capacity, with consumer interest and investment in solar at an all-time high.
"Colorado residents are fiercely protective of their environment, and their dedication to solar is a source of pride," said Michael Ludgate, vice president of business development for APS America. "Being welcomed into this forward-thinking market by a top-line distributor like Clean Energy is another great endorsement for our solar line. Clean Energy put us through real market tests, and we came out on top."
Jesse Stubbs, CEO for Clean Energy Distribution, said his company was drawn to APS microinverter products for their reputation for innovation, capability and technical support.
"APS offers the most advanced microinverters on the market today, so adding them to our product offerings is a natural," Stubbs said. "Our installers and end customers will be impressed by the power and reliability the APS solution brings to their solar systems."
Clean Energy Distribution is a master supplier of solar products in the Colorado market and shipping worldwide. The company has professional talent in solar distributing, large manufacturing companies and solar integration, to provide the best alternative-energy distributing site in America.
Clean Energy Distribution strives to provide customers with excellent service by having live representatives ready to offer support at all times, as well as an online chat through its website for customers' convenience.
APS was founded in Silicon Valley in 2009, and is now a global leader in the development, manufacturing and marketing of microinverters based on their own proprietary, leading-edge solar technology. APS America, representing APS in the US market, is based near Seattle, Washington.
Recent major distribution deals have brought the APS product line to the Southwest, central California and Eastern Seaboard markets, among others.
APS ranked No. 2 in global market share among leading microinverter suppliers by shipments in 2013 (source: GTM Research).
For more information on Clean Energy Distribution, see http://www.cleanenergydistribution.com.
Information on APS microinverter products can be found at http://www.apsamerica.com.
Featured Product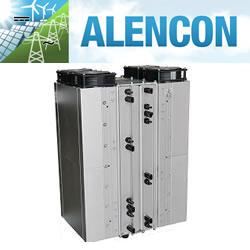 Alencon Systems is the premier manufacturer of high power, high voltage DC:DC optimizers for alternative energy applications including solar, battery energy storage, Microgrids, Fuel Cells and Electric Vehicle charging. Alencon's DC:DC converter offerings include the SPOT, BOSS and CUBE series DC:DC converters. The SPOT is a modular, uni-directional DC:DC solution ideal for solar applications. The BOSS is a modular, bi-directional unit for use with battery energy storage. The CUBE is a monolithic DC:DC converter which is available in both uni-directional and bi-directional modalities. Pictured above, is the Alencon SPOT.