EOCYCLE TECHNOLOGIES SIGNS A COOPERATION AND SUPPLY AGREEMENT WITH MITA-TEKNIK FOR WIND TURBINE CONTROL SYSTEMS
Eocycle Technologies Inc., designer and manufacturer of the EOCYCLE 25 direct-drive wind turbine, has entered into a long-term agreement with Mita-Teknik A/S of Denmark for the supply of wind turbine controls.

Mita-Teknik's control systems will further enhance the safe and reliable operation of the EOCYCLE 25 wind turbine while optimizing its energy yield under all weather conditions.
This agreement again demonstrates Eocycle's firm commitment to delivering a product that will become the distributed wind energy standard for small wind turbines. Eocycle is dedicated to offering wind turbine systems that supply renewable energy competitively and with the best possible return on investment. To achieve such an objective, the EOCYCLE 25 wind turbine consistently yields the maximum amount of energy with minimal downtime and smallest maintenance costs.
With 45,000 wind turbines worldwide equipped with their controls Mita-Teknik's extensive experience and product portfolio bring significant capabilities to Eocycle to meet the needs of diverse applications within the growing distributed wind energy market.
For more information about Eocycle Technologies, the EOCYCLE 25 wind turbine and Mita-Teknik's control systems, please visit the company's respective web sites:
www.eocycle.com
www.mita-teknik.com
Featured Product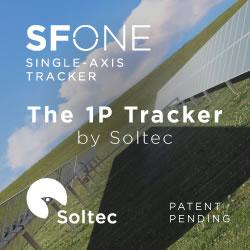 Under the slogan "engineered for greatness", the SF8 tracker aims to revolutionize the photovoltaic market with its new minimum 2x60 configuration and 4 to 6-strings. This tracker is elegantly designed while it reinforces its structure to perform in any terrain. In addition, the SF8 tracker increases the rigidity of its structure by 22% more than the previous generation of Soltec trackers, the SF7. The SF8 is specially designed for larger 72 and 78 cell modules, an increasing market trend.