Leading innovator in solar industry deploys 360-degree suite of cloud-based, real-time customer management solutions
SAN FRANCISCO, Oct. 14, 2014 -- SeeControl today announced that Neighborhood Power Corporation (NPC), Hawaii's solar company, has selected SeeControl as the Internet of Things (IoT) platform to bring a suite of innovative high-touch operational and market-facing services to thousands of NPC customers across the islands.

NPC's existing service management processes presented an opportunity for enhanced efficiencies and customer intimacy. With SeeControl, NPC launched enhanced "big data" scale infrastructure for information capture from machine-to-machine (M2M) gateways and sensors at consumer homes. This infrastructure coupled with SeeControl's no coding toolset enabled rapid solution development for applications that have dramatically improved billing, remote diagnostics and field service. Most importantly for NPC customers, the new solar management suite delivers industry-leading online and mobile interfaces that allow NPC customers to take full charge of their energy generation and consumption.
"We chose the SeeControl platform because it allows us to get new services in front of our customers faster than any of the competing approaches we evaluated. And because it's a no coding platform, we don't have to hire programmers or expand our IT management staff," said Stephen Gates, CEO of Neighborhood Power Corporation.
Bryan Kester, CEO of SeeControl stated, "We are proud to partner with a world-class industry innovator such as NPC. Virtually overnight, NPC has created a true cloud-driven company that senses and responds to customer needs with cloud IoT, CRM, billing and finance---fused via APIs to create a true 21st century enterprise."
About NPC
NPC installs a professionally designed solar system on your property allowing you to generate your own electricity, from the sun, at a lower rate than you can purchase it from your current utility, giving you immediate savings. Neighborhood Power is breaking down barriers every day to provide affordable solar energy solutions to everyone. We employ innovative financing to ensure no customer who wants solar is ever refused. You'll never be turned down for no or bad credit and we'll never ask for money up front. At no cost to you, we'll install our high quality, professionally designed solar energy equipment at your location, which generates energy for dramatically less than your local utility company.
About SeeControl
SeeControl arms Solution Integrators with one-of-a-kind cloud applications for the Industrial Internet. The IoT Cloud Platform organizes and makes sense of data from the Internet of Things (IoT) with no coding skills required. Fortune 500 customers ranging from ABB, HP, and Fujitsu, as well as IoT innovators entrust their solutions for monitoring hundreds of thousands of things around the world to SeeControl.
Featured Product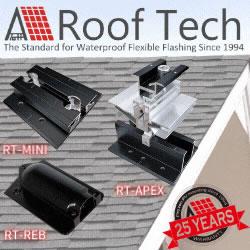 Now Roof Tech brings you the most innovative, watertight mounting systems ever developed for solar photovoltaic systems. Designed and manufactured exclusively for us by Japan's longtime leader in roofing technologies, Roof Tech products are 100% code-compliant and offer fast, simple installation and huge savings on shipping costs due to their compact, rail-less design. Learn more about our full line of versatile PV mounting solutions now available for residential installations. The next generation in rooftop solar mounting solutions."