October 15, 2014 Albuquerque, New Mexico — DPW Solar is proud to debut the new POWER XPRESS™ Ballasted Flat Roof Mounting System, designed to help installers mount solar modules faster and easier.
Installers of PV solar modules can spend hours aligning mounting racks in perfect rows while wrenching their necks and raking their knuckles to tighten hard-to-reach clamps. Now they can do the same job in a fraction of the time at a fraction of the cost with none of the discomfort, thanks to the new POWER XPRESS™ Ballasted Flat-Roof Mounting System.

From DPW Solar, an early pioneer of solar module mounting systems, POWER XPRESS is one of the simplest flat-roof systems to assemble. It has only two main components, a chassis and a clamp, which makes it easier to transport and quicker to set up.
The smarter design also makes POWER XPRESS cost less than other top-quality, flat-roof racking systems.
You can see the POWER XPRESS at Solar Power International (booth No. 858), October 20–23, 2014, at the Las Vegas Convention Center in Las Vegas, Nev.
"POWER XPRESS is the third generation of our field-proven ballasted, flat-roof racking system," says John Markiewicz, General Manager of DPW Solar. "It's more modular than any of the other systems we've introduced during our 20-plus years in the PV solar industry. That makes it easier to customize to the roof and about 30 percent faster to lay out and assemble."
Install POWER XPRESS in four simple steps
1. Lay out chassis on the roof. Use spanners and jigs to align them.
2. Place cement blocks in ballast pans.
3. Lay down solar modules.
4. Secure modules with clamps, tightening the bolt outside each chassis.
What's better about POWER XPRESS?
• Lower cost. Because of the smart design — using fewer parts and less material — POWER XPRESS costs less than many other ballasted, flat-roof mounting systems.
• More modular. Lay out solar modules in various configurations to fit the roof. You're not restricted by rails or subassemblies, as in conventional designs.
• Quick to assemble. No more loose hardware to keep track of as POWER XPRESS uses only two main components: a chassis and a clamp.
• Full-containment ballast pans. When concrete blocks weather and break, their pieces stay in the pan and continue serving as ballast weight.
• Hassle-free clamps. Instead of clamping down on top of the solar module or through bolts underneath, POWER XPRESS clamps latch to the lip on the module's underside. Tightening each clamp is hassle-free because the bolt is easily accessible outside the module frame and chassis. In addition, the POWER EXPRESS clamps fit almost all solar module designs.
• Built-in electrical grounding. No need to add extra grounding components. Once the solar module is clamped, it's grounded thanks to the clamp's penetrating teeth.
• Optional wind deflectors. They're easy to snap in if you need them. But if you don't, they're not built into the standard design, keeping your system's cost down.
About DPW Solar
DPW Solar is a wholly owned subsidiary of Preformed Line Products (PLP) and has been a major manufacturer of PV solar rack mounting systems since 1993. The maker of the POWER-FAB® product line, DPW Solar provides professional installers from coast to coast with superior-strength, easy-to-install mounting systems and enclosures for utility, commercial, residential and industrial applications. All DPW Solar mounting systems are designed and manufactured in the United States. For more information about POWER XPRESS or other DPW Solar products, visit www.dpwsolar.com, email info@power-fab.com or call 800-260-3792.
About Preformed Line Products
Founded in 1947, Preformed Line Products (NASDAQ: PLPC) designs and manufactures products for the construction and maintenance of overhead and underground energy, communications and broadband networks. Headquartered in Cleveland, Ohio, the company is internationally known for high-quality cable anchoring and control hardware and systems, fiber-optic and copper splice closures, and high-speed cross-connect devices. PLP serves worldwide markets through international operations in Argentina, Australia, Brazil, Canada, China, England, France, Indonesia, Malaysia, Mexico, New Zealand, Poland, Russia, South Africa, Spain and Thailand.
4000 B Vassar Dr. NE • Albuquerque, NM 87107 • 505.889.3585 • www.DPWsolar.com
- END-
Featured Product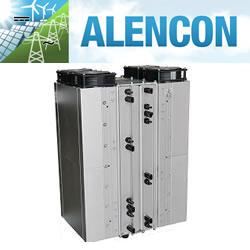 Alencon Systems is the premier manufacturer of high power, high voltage DC:DC optimizers for alternative energy applications including solar, battery energy storage, Microgrids, Fuel Cells and Electric Vehicle charging. Alencon's DC:DC converter offerings include the SPOT, BOSS and CUBE series DC:DC converters. The SPOT is a modular, uni-directional DC:DC solution ideal for solar applications. The BOSS is a modular, bi-directional unit for use with battery energy storage. The CUBE is a monolithic DC:DC converter which is available in both uni-directional and bi-directional modalities. Pictured above, is the Alencon SPOT.