Midsummer, a leading supplier of production lines for cost effective manufacturing of flexible thin film solar cells, CIGS, has been named as 'one of the most interesting cleantech companies in Stockholm' for its 'unique product with global potential'.
Midsummer is featured as one of the 25 most interesting cleantech companies in one of the world's leading tech regions, Stockholm. The Stockholm Cleantech Hotlist is a tool that presents the region's hottest prospects to investors. To qualify for the list, the companies must offer a product or service based on unique research that will lead to a commercial solution with global potential. The Stockholm Cleantech Hotlist is compiled by Stockholm Business Region Development and Cleantech Scandinavia.

Midsummer is a leading global provider of turnkey production lines for cost-effective manufacture of flexible thin film solar cells of the type CIGS (copper, indium and gallium). Midsummer has developed a rapid process for the production of these solar cells using sputtering of all layers of the solar cell. This allows for scalable and cost efficient manufacturing of thin film solar cells.
"The Stockholm Cleantech Hotlist is yet another proof that our offering is of great interest to the global market. We firmly believe that thin film CIGS solar cells are the solar cells of the future", said Sven Lindström, CEO, Midsummer.
"Flexible thin film solar cells are increasingly efficient and have many advantages over traditional silicon-based solar cells. They are durable, can withstand vibrations, can be curved and bent, and can be manufactured cost-efficiently in small volumes", Sven Lindström continued.
CIGS flexible solar modules are growing in popularity thanks to their low weight, flexibility and durability. Applications are e.g. floating modules, vehicles, landfills, portable power generation and membrane roofs on factories, offices and other structures that are not strong enough for traditional glass modules.
Midsummer has been named as one of Sweden's hottest technology companies and also been repeatedly featured on the list of the nation's fastest growing technology companies. Midsummer was the fastest growing clean tech company in the EMEA region in 2007-2011 (Deloitte, Fast 500).
For images of thin film CIGS solar cells and the Midsummer manufacturing equipment, please go to http://www.midsummer.se/pressmediagallery.html
Featured Product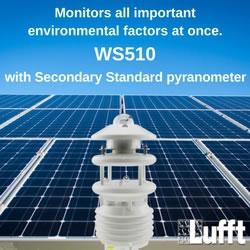 Professional weather sensors form the heart of large solar plants supporting their operation and performance. Lufft was the first manufacturer to combine several sensors in one housing, bringing the largest multiparameter weather sensor family with 19 members into being. Many of them are well-suited for solar site assessment and continuous monitoring. The most commonly used one is the WS600 delivering data on temperature, air pressure, wind, relative humidity and precipitation. Through its open protocol, it can easily be attached to radiation sensors e.g. from Kipp&Zonen. Other models have an integrated Silicon, Second Class or Secondary Standard radiation sensor.