US-based solar PV and ACPV-provider joins renewable energy holding group; Prepares for exponential growth; Changes name to MAGE SOLAR USA
Dublin (Georgia), October 15, 2014. – MAGE SOLAR USA, a US-based provider of premium quality, top-performance PV and ACPV modules, announced today that it has become independent of its former German parent organization MAGE SOLAR GmbH and has joined a holding group comprised of several highly-diversified renewables companies. Now named MAGE SOLAR USA, the company is positioned to deploy a clear strategic focus in the solar PV markets of the Western Hemisphere and to place renewed emphasis on its client proximity and services.

The announcement comes after MAGE SOLAR USA has undergone a series of transitions and adjustments that will propel the company from being a PV and ACPV panel supplier into a fully sales-oriented organization building on its already impressive "No. 2 most trusted service provider for installers in the US" moniker per North American PV EPC Monitor in 2013.
The highly respected brand will continue to offer its industry-leading 30 year product warranty for PV and ACPV modules which include premium US-assembled and ARRA-compliant panels.
In addition, MAGE SOLAR USA will also be able to utilize the resources and diversity of the newly formed Strathcona Energy Group (SEG) whose members include the Ontario-based Eclipsall Manufacturing Corp, a leading PV module manufacturer with over 200MW of manufacturing and assembly capacity in North America, FATH PV Tech, a ground-breaking BI-PV developer and mounting component provider, and Strathcona Solar, an award-winning full service integrator with a global EPC branch.
Don Hammond, an executive with the company says that "Under the new ownership MAGE SOLAR USA is poised to grow a market presence worthy of its first-rate brand name reputation." Mr. Hammond adds that "as the US solar industry approaches its 20 gigawatt mark, these continue to be very positive and exhilarating times for the PV industry as a whole and for MAGE SOLAR USA. The infusion of strength and diversity by the Strathcona Energy Group presents a unique opportunity for us to answer market developments in a fast and flexible manner and to continuously improve upon our range of quality products and services."
In the following weeks and months, the company will announce further updates pertaining to its operations, its prestigious product portfolio, as well as additional new partnership opportunities.
Featured Product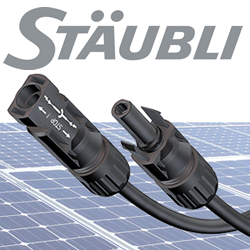 ​Stäubli Electrical Connectors are used on more than 300 GW, over 50% of the PV capacity worldwide. The MC4 family of UL and TUV listed products include connectors, in-line fuses, branch connectors, cable assembly and more.