Representatives from two pilots working on the EU funded EnAlgae project recently attended the 4th annual Nordic Seaweed Conference in Denmark.
The event offers the chance for participants working in the field to keep up to date with developments in the alga field across Europe.

Jennifer Champenois from CEVA in Brittany and Drs Karen Mooney and Peter Schiener from QUB in Belfast attended the event and presented talks on the work they've undertaken as part of EnAlgae.
Funded by the European Union under the INTERREG IVB North West Europe programme and with Swansea University as its lead partner, the EnAlgae project unites experts and observers from 7 EU member states to determine the potential benefits of algae as a future sustainable energy source.
Jennifer Champenois's talk was entitled "Design and trial of a new seaweed production structure in the EnAlgae project" while Dr Mooney focused on "Kelp cultivation in Northern Ireland:  What works, what really doesn't and what people think about it".
Dr. Peter Schiener talked about his plans for EnAlgae and his work on "The impact of seasonality on the chemical composition of L. digitata, L. hyperborea, S. latissima and A. esculenta with the focus on bioethanol production.
"The presentation went well for me," said Mlle Champenois. "In the conclusion of my talk I made a general call for collaboration as we want to start working with partners on IMTA. There followed soon after a talk all about IMTA from a Danish company which grows rainbow trout in combination with mussels and seaweeds to compensate the nitrogen emissions from fish.
"So the event was a great opportunity to make some new and valuable contacts that I hope will be useful in the future."
Dr Mooney's talk described the first two kelp growth seasons, with a focus on Best Practices and lessons learned from trialling new deployment systems.
"The conference was a great opportunity to discuss cultivation issues common to many places and to exchange ideas and knowledge of what works best," said Dr Mooney. "The data presented form our stakeholder survey was particularly interesting and we got lots of feedback on how to integrate better with marine users, especially though projects such as SeaFarm in Sweden. We also took the opportunity to visit Hjarno Havbrug, an aquaculture company branching out to include Sugar Kelp cultivation which was very interesting. We've made some great contacts and had lots of requests to come visit the pilot site at QUB!"  
Anyone wishing to learn more about the event can visit www.enalgae.eu.
Featured Product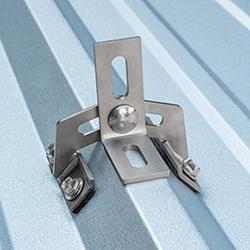 QuickBOLT Low Profile QuickBOLT with Microflashing™ is the industry's affordable, UL Certified Asphalt Shingle mounting system. The Microflashing™ is compressed by the collar on the bolt to create a water-tight seal. With an installation time of less than one minute, the Low Profile QuickBOLT allows installers to complete more jobs.