Through this partnership, Inovateus Solar will be the exclusive distributor of the Kanzo racking system.
SOUTH BEND, Ind., Oct. 16, 2014 -- Inovateus Solar, LLC, a worldwide developer and installer of commercial and industrial solar power systems, has announced a finalized partnership with the South Bend, Indiana based solar racking company Kanzo, Inc. Kanzo, Inc. was established in 2011 and has been installed by Inovateus Solar in small quantities across the Midwest. Kanzo, Inc. is looking to cross the barrier from installing kilowatts to megawatts. The first large scale installation of Kanzo racks by Inovateus Solar is scheduled to begin soon, totaling 129.36 kW for Half Moon Ventures in Indianapolis, Indiana.

"We are proud to partner with Inovateus Solar," said Kanzo Research and Development Specialist, Christopher Genco. "Through our development from an innovative design concept to a finished product, Inovateus has been one of our strongest supporters. Having a distribution deal with such a widely respected EPC and distribution firm, only three years into the solar racking business is a dream come true."
Through this partnership, Inovateus Solar will be the exclusive distributor of the Kanzo racking system.
"As a new offering in solar racking, we are excited to be working with a manufacturer that has gone above and beyond in testing and certifications," said Inovateus Solar Distribution Coordinator Tyler Kanczuzewski. "Since Inovateus has sold and installed a wide variety of racking products, Kanzo fulfills a niche in low slope commercial roofs."
About Inovateus Solar
Inovateus Solar is a worldwide turnkey installer of commercial and industrial solar systems. Inovateus Solar, LLC has been involved with the installation of many high profile rooftop, carport, and ground mount photovoltaic systems in the United States and abroad. As a distributor and integrator for many of the world's largest photovoltaic manufacturers, Inovateus Solar, LLC offers the most competitive pricing for turnkey installations while providing a wealth of experience in system design, specification, procurement and project management. Inovateus Solar continues to expand its scope of operations, with new projects going live from Massachusetts to the Caribbean.
Featured Product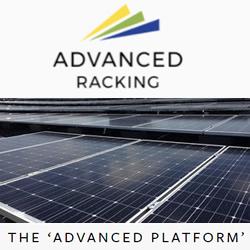 The 'Advanced Platform' simplifies the installation process by using universal mounting hardware that works perfectly across all roof types. Smart roof connection kits then connect to the specific roof's surface. The Advanced Platform is versatile: Our common design can be your single solution for all roof types.