Powertree Services' Innovative Solution Combines Solar Energy Generation with Battery Storage and Electric Vehicle Charging; Offers Supplemental Building Energy for Customers on Pacific Gas & Electric Grid
Newark, NJ and San Francisco, CA, (October 20, 2014) Panasonic Enterprise Solutions Company (Panasonic) announced it is providing engineering, construction and procurement services to San Francisco-based Powertree Services Inc. (Powertree) to build 68 electric vehicle charging stations at multi-unit residential properties in San Francisco.

Construction has begun on the stations, which link together key energy services to provide value for property owners, tenants, EV drivers and the grid. They are designed to be powered by solar energy and to incorporate a battery storage component. When complete they will have the ability to supply high power charging to vehicles, ancillary services provided to the utility to support the grid, solar power to tenants and supplemental power to the buildings. The stations are scheduled to be completed by Earth Day 2015.
"Panasonic is committed to driving new technologies and collaborating with entrepreneurs to help bring about renewable energy options and a sustainable future. Our work now will pay off in terms of future economic and other benefits for building owners, and a reduction in greenhouse gases," said Panasonic Enterprise Solutions' Jamie Evans, Eco Solutions Managing Director.
"Owners of multi-tenant apartment and mixed use buildings face a rising demand from tenants, drivers and new regulations that combine to require them to install, manage, upgrade electric charging facilities and support electric vehicles. With Powertree Services owners can turn this potentially burdensome situation into new value and offer attractive new amenities for their tenants even in medium to small urban properties with no capital outlay by the property owner," said Stacey Reineccius, founder and CEO of Powertree.
When complete, the 68 stations will result in a total installed capacity of 6.1 megawatts of power and 2.5 megawatts of EV charging capacity. Each station is configured to support up to 70 amps or 18 kilowatts. This is roughly equivalent to 60 to 70 miles of range for every hour of charging. The exact rate of charging depends on vehicle models. The stations will be powered by on site photovoltaic panels, and can generate clean energy for building use, or have the ability to provide backup generation, in the event of a grid outage.
At Solar Power International 2014 at the Las Vegas Convention Center on October 21, Panasonic's Jamie Evans and Powertree's Stacey Reineccius will talk about the challenges and solutions to going green—whether it is upfront cost, complex financial structures, or the need to secure strong, reliable partners at every phase of solar development—in a case study style panel focusing on Powertree and titled Simplifying Sustainability: Eliminating the Barriers to Solar Success.
About Panasonic Enterprise Solutions Company
Panasonic Enterprise Solutions Company, a division of Panasonic Corporation of North America, develops, installs and maintains large-scale Eco Solutions and Audio-Visual Solutions for business and municipal customers. Serving customers across a wide range of industries, Panasonic Enterprise Solutions engineers custom-built applications using the latest technology, experience in end-to-end management of complex projects and unparalleled onsite support services. Eco Solutions offers expertise in end-to-end solar energy projects while also delivering technological and financial solutions to the rapidly expanding commercial and industrial renewable energy markets. An industry leader in Audio-Visual Solutions, the company has installed some of the largest high-definition LED video boards in the world at many well-known sports and entertainment venues in the U.S. In Interbrand's 2014 annual "Best Global Green Brands" report, Panasonic ranked number five overall and the top electronics brand in the report. Learn more: panasonic.com/pressroom
About Powertree Services Inc.
Powertree Services Inc. a private owner-operator of integrated Solar PV generation, Electric Vehicle charging and grid interactive energy storage. Privately owned, Powertree Services has developed the custom technology (patents pending), business model, partner and customer relationships to deliver clean power services to multi-tenant properties. Powertree is launching initial network operations in 2015 with over 68 locations in northern California. Learn more at www.powertreeservices.com
Featured Product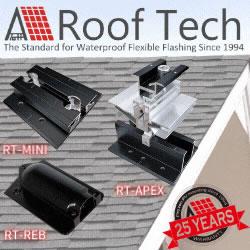 Now Roof Tech brings you the most innovative, watertight mounting systems ever developed for solar photovoltaic systems. Designed and manufactured exclusively for us by Japan's longtime leader in roofing technologies, Roof Tech products are 100% code-compliant and offer fast, simple installation and huge savings on shipping costs due to their compact, rail-less design. Learn more about our full line of versatile PV mounting solutions now available for residential installations. The next generation in rooftop solar mounting solutions."