Ballard Power Systems and partner Van Hool N.V., have announced that a dedicated joint European Service and Parts Centre for fuel cell buses (to be called ESPACE) will be operational in November 2014.
For Immediate Release

VANCOUVER, CANADA and LIER, BELGIUM - Ballard Power Systems (NASDAQ: BLDP)(TSX: BLD) and partner Van Hool N.V., have announced that a dedicated joint European Service and Parts Centre for fuel cell buses (to be called ESPACE) will be operational in November 2014. The key objective of ESPACE is to support Van Hool fuel cell buses in Europe that are powered by Ballard fuel cell modules.
"We always strive to offer the best, not only in our products, but also in post-sales support, by anticipating and addressing potential issues and communicating clearly with customers," said Paul Cass, Ballard's Chief Operations Officer. "ESPACE demonstrates our commitment to customers and partners by offering premium support services."
With a growing number of Van Hool buses on European roads, powered by Ballard fuel cell modules, it is critical that maintenance and repair activities related to fuel cells and hybrid drive line components be readily available from experienced support personnel. By the end of 2014, there are expected to be 27 of these fuel cell buses in operation in five European cities – 10 in Aberdeen, 5 in Antwerp, 5 in Oslo, 5 in San Remo and 2 in Cologne. ESPACE will ensure safe, reliable operation of these buses and will maximize operating uptime while offering transit agencies more competitive maintenance costs.
Filip Van Hool, CEO of Van Hool N.V. said, "Ballard has been very proactive in helping develop this European customer service center, demonstrating its commitment to customer success. This investment in after-sales support will further the acceptance of zero emission fuel cell buses in our markets."
ESPACE will be co-located with Van Hool's Lier, Belgium manufacturing facility, encompassing 120 square meters of space and storing up to 200 parts on-site, including fuel cell modules, batteries as well as electric driveline and hydrogen storage components. Ballard and Van Hool plan to have two dedicated fuel cell service personnel at the facility to provide training and technical assistance to Van Hool and customer representatives as well as to impart knowledge of fuel cell technology and Ballard's FCvelocity®-HD fuel cell product line. These personnel will also be backed by teams of experts and engineers at both companies.
By liaising between on-site support and the respective corporate engineering departments, ESPACE will help identify the root cause of any reported failure and will accelerate the implementation of remedial plans. Locating ESPACE in Lier, Belgium will enable this process, thanks to the rapid exchange and assessment of collected data, all within similar time zones.
About Ballard Power Systems
Ballard Power Systems (NASDAQ: BLDP)(TSX: BLD) provides clean energy fuel cell products enabling optimized power systems for a range of applications. Products deliver incomparable performance, durability and versatility. To learn more about Ballard, please visit www.ballard.com.
This release contains forward-looking statements concerning anticipated deployments and their market impact. These forward-looking statements reflect Ballard's current expectations as contemplated under section 27A of the Securities Act of 1933, as amended, and Section 21E of the Securities Exchange Act of 1934, as amended. Any such forward-looking statements are based on Ballard's assumptions relating to its financial forecasts and expectations regarding its product development efforts, manufacturing capacity, and market demand.
These statements involve risks and uncertainties that may cause Ballard's actual results to be materially different, including general economic and regulatory changes, detrimental reliance on third parties, successfully achieving our business plans and achieving and sustaining profitability. For a detailed discussion of these and other risk factors that could affect Ballard's future performance, please refer to Ballard's most recent Annual Information Form. Readers should not place undue reliance on Ballard's forward-looking statements and Ballard assumes no obligation to update or release any revisions to these forward looking statements, other than as required under applicable legislation.
Further Information: Guy McAree +1.604.412.7919, media@ballard.com or investors@ballard.com
About Van Hool N.V.
Van Hool is an independent Belgian manufacturer of buses, touring coaches and industrial vehicles. The company, founded in 1947, is based in Lier, Belgium. The majority of its production is destined for Europe and the USA. Van Hool has more than 4,750 employees worldwide, the majority of whom work at the production sites in Koningshooikt/Lier and Bree (Belgium) and in Skopje (Macedonia). www.vanhool.be
Editors, for more information, please contact:
Dirk Snauwaert, Public Relations Manager at Van Hool, Bernard Van Hoolstraat 58, 2500 Lier (Koningshooikt).
Tel.: +32 (0)3 420 22 12; Mobile: +32 (0)499 555 032; e-mail: dirk.snauwaert@vanhool.be. Website: www.vanhool.be
Featured Product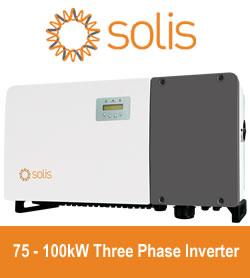 Solis75kW - 100kW series high-power string inverters are widely used in industrial and commercial rooftops. Solis's new three-phase string inverter is the first choice for industrial and commercial photovoltaics. 75-100kW three phase series string inverter have Maximum 28 strings input, support "Y" type connection in DC side. Maximum string input current 13A, support bifacial modules access.Supports anti-PID function to improve system efficiency.