GE to Supply Jenbacher J612 Engines to Power Biomass Gasification Projects ---- Phoenix Energy Planning Multiple Bioenergy Generation Projects in California ---- GE's Fuel-Flexible Distributed Power Solutions Promote Regional Energy Security and California's Renewable Portfolio Standard
SAN FRANCISCO—October 21, 2014—GE's Distributed Power business (NYSE: GE), Western Energy Systems and San Francisco, California-based Phoenix Energy today announced they have signed an agreement for GE to supply an undetermined number of ecomagination qualified Jenbacher gas engines to power a series of bioenergy plants that Phoenix Energy plans to build around the Golden State.

Phoenix Energy uses an advanced downdraft gasification technology to thermochemically convert biomass residues into a hydrogen-rich fuel used to generate electricity, heat and biochar. The Phoenix Energy technology can transform a wide range of woody wastes into "syngas," which then can be used in gas engines to generate cleaner electricity and heat for local users, utilities, agricultural processors, waste handlers and other industries. Biomass fuel is procured locally to enable any operation in need of low carbon and cleaner energy to become its own power provider.
Under terms of the agreement, GE's Distributed Power business and Western Energy Systems will provide Phoenix Energy with GE's Jenbacher J612 gas engines, which will use the syngas produced at Phoenix Energy's biomass gasification facilities to generate renewable electricity. Each installed gas engine will generate about 1 megawatt (MW) of reliable on-site power. GE and Western Energy Systems also will provide technical support for Phoenix Energy's installed engine fleet. Phoenix Energy has committed to use GE's Jenbacher gas engines statewide, including for its Lake Tahoe and other projects in Central and Northern California.
"We are very excited about deploying GE's engines at our upcoming Lake Tahoe project," said Phoenix Energy CEO Greg Stangl. "Not only does GE's Jenbacher gas engine division have a wealth of experience operating on syngas, but GE stepped up to the challenge of doing this at almost 6,500 feet elevation near Lake Tahoe. This project is the first in the nation designed exclusively to use forestry residues from local, state and federal fire mitigation activities. It highlights how innovative ideas like Placer County—working with the U.S. Forest Service—are changing the wasteful status quo of piling and burning excess material in the open. By working together we not only reduce forest fire danger and improve air quality but also produce energy from the biomass, reducing our dependence on fossil fuels."
"The (Lake Tahoe) facility will use two Jenbacher J612 gas engines and provide approximately 2 MW per hour to the local grid. The best part is that since the process doesn't use combustion, our carbon is left mostly in solid form called biochar, not CO2. We put this carbon back into the ground to improve soil health and water retention or use it as filter carbon. Other projects nearing agreement will interconnect with various local utilities under California's new SB-1122 legislation, which enables further deployment of bioenergy in the state," Stangl said.
Stangl added, "To make it all work we needed an engine supplier not afraid of doing new things. GE is a leading company in engine design and development for the renewable energy industry and has a wealth of experience with syngas. We value GE's knowledge and assistance and know that their expertise will help ensure our success. We look forward to developing many distributed generation projects using GE's gas engines, making a real difference in bioenergy."
Western Energy's agreement with Phoenix Energy reflects the growing global demand for GE's specialty gas engine technology and other distributed power solutions to help meet the world's pressing local energy security, energy efficiency and environmental policy priorities.
"This type of biomass application offers our customers another innovative way to support California's Renewable Portfolio Standard and reflects our commitment to provide solutions that support the production of cleaner, locally based energy," said Scott Nolen, global solutions leader for GE's Distributed Power business—GE Power & Water. "The Jenbacher J612 gas engine is designed to meet our customers' needs for both high efficiency and reliability and is well suited for Phoenix Energy's process requirements."
GE's gas engines stand for fuel flexibility, low emissions, high efficiency and availability. Demonstrating impressive fuel flexibility, GE's engines can operate not only on syngas and natural gas, but also on a broad range of alternative gases including digester biogas, landfill gas and sewage gases.
GE's Jenbacher gas engines are part of GE's ecomagination portfolio. Ecomagination is GE's commitment to provide innovative solutions that maximize resources, drive efficiencies and make the world work better. To qualify for the portfolio, products and services must demonstrate both improved economic value and environmental performance.
Featured Product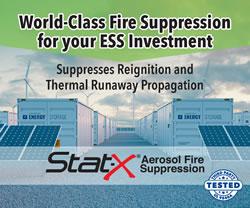 Stat-X® condensed aerosol fire suppression is a solution for energy storage systems (ESS) and battery energy storage systems (BESS) applications. Our Stat-X condensed aerosol fire extinguishing product was tested for efficacy in suppressing li-ion battery fires. It was found that the product successfully extinguished single and double cell battery fires. This testing was conducted in parallel with a large battery fire testing program on behalf of a large energy storage company.