Only energy leader with complete National Electrical Code, UL1741-compliant offering from rooftop to battery
Solar Power International 2014

ARLINGTON, Wash.--OutBack Power Technologies, Inc., a designer and manufacturer of advanced power electronics for renewable energy, backup power and mobile applications, today announced several additions to its renewable energy systems portfolio, including its new FLEXware Integrated Combiner Solution (ICS), new power conversion systems and expanded line of batteries and enclosures. With these offerings, and the company's new OPTICS RE control functionality, OutBack Power now offers the industry's only complete, UL1741 end-to-end solution. OutBack Power will showcase these products at Solar Power International running October 20 through 23 in Las Vegas.
With constantly shifting renewable energy policies and user demands, there's growing concern about the return on renewable energy investments. The latest innovations in the OutBack Power roster were designed to provide future-perfect systems that meet today's needs and regulations, as well as future energy scenarios. OutBack's new lineup provides users and installers with a safer, more accessible and comprehensive renewable energy system, while enabling easier system expansion and monitoring and control of system operations.
"As consumer and commercial interest builds in renewable energy, and specifically in grid-tied and standalone systems, OutBack Power is taking a leadership position in providing the technology and services necessary to meet market needs, while looking ahead to address future trends in renewable energy," said Harvey Wilkinson, general manager, OutBack Power. "With the expansion of our battery and enclosure lines, innovative Radians with GridZero mode, OPTICS RE and the introduction of our new Integrated Combiner Solution, OutBack Power is now the only complete and comprehensive battery-to-rooftop brand."
Complete UL1741 end-to-end solution
The rapid increase in systems with battery-based energy storage is driving the need for safer, smarter and more flexible methods for combining and managing array output. To address this evolving trend, OutBack introduced several innovative designs for North American and international markets with the new FLEXware Integrated Combiner Solution. When installed with OutBack Power's energy conversion and storage products, FLEXware ICS completes the only UL-1741 end-to-end single brand solution.
The new FLEXware ICS Plus is an integrated solution with arc-fault protection, advanced ground-fault protection, and rapid shutdown and is compliant with 2014 National Electrical Code (NEC) requirements. Pre-integrated, the FLEXware ICS is easy to install and operate and incorporates higher voltage ratings (up to 1kVdc) to allow for future system topologies.
New power conversion systems expand Grid/Hybrid options
Featuring future-perfect design, OutBack Power's Radian-based Grid/Hybrid renewable energy systems enable grid independence and energy resilience ensuring compatibility with future energy scenarios. The award-winning Radian family gets a boost with new GridZero technology and Advanced Battery Charging. And with its AC-coupling Solution, OutBack brings Grid/Hybrid and backup capabilities to existing grid-tied-only systems by integrating a second smarter inverter along with a battery bank for energy storage.
Offering ease and convenience for larger-scale applications, OutBack has expanded its pre-assembled, pre-wired FLEXpower Systems:
* The FLEXpower THREE System is designed for 120/208VAC 60Hz three phase applications with medium sized power requirements, such as light commercial or larger backup power systems. FLEXpower THREE systems are offered in 9kW and 10.8kW configurations.
* The FLEXpower FOUR System is ideal for 120/240VAC split-phase applications with larger sized power requirements, such as large residential, commercial, or village power systems. FLEXpower FOUR systems are offered in 12kW and 14.4kW and can be combined with other FLEXpower systems for up to a total of 36kVA.
Continuing with its systems approach, OutBack is also premiering the new Balance of Systems Solution (BOSS), a line of pre-assembled and tested, factory built, integrated energy systems in a compact footprint. Ideal for both residential and commercial applications, BOSS integrates all power conversion, charging, control and energy storage components into an advanced, thermally conditioned enclosure. BOSS also has superior energy storage capabilities built-in (up to 19.6 kWh). Options include indoor and outdoor versions.
Single source for energy storage needs
With its full line of integrated system enclosures for both indoor and outdoor use and its innovative OnSite Direct program that offers half price, fast, direct-to-the-job-site shipping on select battery models, OutBack Power provides a one-stop resource for every energy storage need.
OutBack's EnergyCell RE High Capacity battery family, including the new 2-Volt battery, is the ideal solution for large, high capacity deep cycle, applications requiring the use of Valve Regulated Lead Acid (VRLA) batteries. Modular design with steel-can casing and racking system provides a cost-effective battery system with a compact, quick and simple installation process.
Innovation in renewable energy management
OutBack Power's new OPTICS RE provides installers and owners of OutBack systems the ability to easily monitor system operation, performance and output via an intuitive dashboard from any Internet-enabled device. OPTICS RE reduces system downtime and service calls, while also providing users more control over their energy production and use, and higher satisfaction levels from their renewable energy system investment.
SPI attendees interested in learning more about OutBack Power and its newest product innovations may stop by booth 2312 for a demo.
About OutBack Power Technologies
OutBack Power Technologies, a member of The Alpha Group, is the leading designer and manufacturer of advanced power electronics for renewable energy, back-up power and mobile applications. Founded in 2001 to pioneer power conversion technologies considered de facto standards today, and with an emphasis on product performance and reliability, OutBack has established itself as the product of choice in harsh environmental conditions and applications where product reliability is paramount. Whether the application is village microgrids in Africa, rural electrification projects in Latin America, remote off-grid cabins in Alaska, or a suburban home in Southern California, OutBack Power Technologies has set the bar for delivering advanced power conversion electronics. For more information, please visit www.outbackpower.com.
Featured Product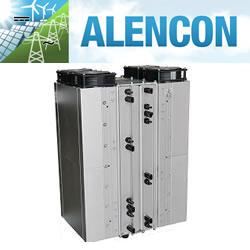 Alencon Systems is the premier manufacturer of high power, high voltage DC:DC optimizers for alternative energy applications including solar, battery energy storage, Microgrids, Fuel Cells and Electric Vehicle charging. Alencon's DC:DC converter offerings include the SPOT, BOSS and CUBE series DC:DC converters. The SPOT is a modular, uni-directional DC:DC solution ideal for solar applications. The BOSS is a modular, bi-directional unit for use with battery energy storage. The CUBE is a monolithic DC:DC converter which is available in both uni-directional and bi-directional modalities. Pictured above, is the Alencon SPOT.