Sunpreme's new 500W panel uses the same design and materials technology as its current line of Maxima GxB series.
SUNNYVALE, Calif., Oct. 21, 2014 -- Sunpreme, a global solar photovoltaic company that designs and manufactures its own cells and panels, announced that it has demonstrated the world's first Bifacial double glass module with a measured STC output of 503W. With a 15% Bifacial power boost, the effective panel wattage can be enhanced to 575W with an effective module efficiency of 22.2%. A second performance bonus comes from a record low thermal coefficient of module efficiency of 0.28%/C. The product is designed to achieve an unsurpassed BOS (Balance of System) cost reduction for distributed power generation applications. The panel and IV flash data are on display at Sunpreme's booth at the Solar Power International14 (SPI) trade show being held in Las Vegas during the week of October 20, 2014.

Sunpreme's new 500W panel uses the same design and materials technology as its current line of Maxima GxB series. The underlying technology platform is Sunpreme's proprietary SmartSilicon® Hybrid Cell Technology (HCT) developed 5 years go. See http://www.prnewswire.com/news-releases/sunpreme-launches-premium-solar-20-maxima-gxb-solar-modules-with-outstanding-aesthetics-ruggedness-and-bi-facial-energy-boost-248534331.html. It is designed to maximize energy production in ground mount as well as tracker configurations. The proven construction consists of 156.75mm AFS cells sealed between two panels of tempered glass. With a frameless design, there is no need for grounding. Such innovative double glass modules have proven easy to install and maintain even when deployed at multi-MW volumes. See http://www.prnewswire.com/news-releases/sunpreme-deploys-635-mw-of-high-performance-solar-panels-at-four-locations-in-cape-cod-and-marthas-vineyard-278963331.html. The modules have demonstrated extremely robust reliability, with sleek see-through aesthetics and an excellent value.
"I am delighted to see the rapid progress Sunpreme has made with its Bifacial Hybrid Cell Technology packaged into double glass frameless panels. Both the Sunpreme HCT cell and its module are key elements of a high-tech product portfolio, that until recently included half a dozen different mainstream technologies spanning a module efficiency range from 14% to 21%," said Dr Eicke Weber, Director of Fraunhofer ISE and a member of Sunpreme's Global Advisory Board. "With its record module efficiency of about 22% with Bifacial boost, Sunpreme HCT technology has moved right to the top of the class. And, it is able to do so in a cost effective manner even at a small scale volume. Going forward, Sunpreme clearly has room for an enormous upside in further cost reduction," added Dr Weber.
"We are proud to claim the Sunpreme GxB 500W(STC) as the world's new "Heavy Watt" champion. An effective power of 575W, post Bifacial boost, equivalent to a 22.2% panel efficiency brings out unsurpassed BOS cost benefits for large Distributed Power Generation projects. At 34 kg, we are close to the weight two installers can do repetitive lifts," said Dr Ashok K Sinha, Chairman and CEO of Sunpreme. "With such a "one-of-a-kind" product we are setting a new industry bench mark. Our innovative design exceeds the limits of STC and PVSyst standard. We help our customers achieve a lower LCOE with a higher energy yield. These add up over the 25 year life of these panels. Upon full market release, the product warranty will, like our other products, be backed by Munich Re. In the end, our intent is to provide our customers and investors an outstanding Internal Rate of Return (IRR)," added Dr Sinha.
Frank Pham, Sunpreme's Sr VP for Global Engineering and Operations said, "Rapidly demonstrating leading edge products such as the GxB500W was enabled by executing to our corporate values of continuous innovation and lean operations. By building on a tested and proven HCT platform with Bifacial double glass modules, we were able to demonstrate an STC flash power of 503W. These panels share the gene pool of the GxB product family, e.g. high Voc for efficient systems integration, the highest fire class A rating, a higher snow load and wind resistance." Because of its intended application and unique nature of the product, "We expect to work closely with selected customers on applications engineering matters, including compatible racking and tracker configuration," added Frank.
About SUNPREME
Sunpreme is a 5-yr old global solar photovoltaic company that designs, develops and manufactures its proprietary SmartSilicon Hybrid Cell Technology, which delivers the best cost-performance value to clean-tech customers, worldwide. Sunpreme's higher efficiency solar cells with 22% efficiency and Bifacial higher performance, and double glass frameless panels are designed and developed and tested in the Silicon Valley, USA, and are manufactured in China. The Company has deployed its solutions across the US, including California, Massachusetts, Vermont, New Jersey, Utah, Florida, Hawaii, Puerto Rico, and in Chile, China, India, Israel, Nigeria, the Philippines, Qatar and Saudi Arabia. To connect with Sunpreme, please visit: www.sunpreme.com
Featured Product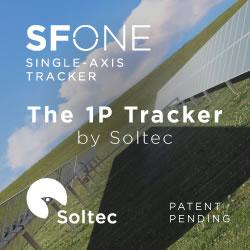 SFOne is the 1P single-axis tracker by Soltec. This tracker combines the mechanical simplicity with the extraordinary expertise of Soltec for more than 18 years. Specially designed for larger 72 an 78 cell modules, this tracker is self-powered thanks to its dedicated module, which results into a lower cost-operational power supply. The SFOne has a 5% less piles than standard competitor, what reduces a 75% the labor time.